Blairemore to Peter Lougheed Provincial Park
July 13, 2004
---
I awoke in the broken land early and with my mind on Blairemore, my first resupply stop on the GDT. I had made it here almost a day faster than I thought I would and, after a physically easy walk yesterday I was ready to roll. I packed up early and made the final 2 K into Blairemore by 7:15. Lynx Creek road abruptly becomes paved right as it enters town in a residential area. The property values here must be minimal, as the logging trucks have to rumble all the way down and through the area. Blairemore appeared to be larger than I thought it was, as I could not see a business district from the residential area. Without a direction to go, I turned left on a whim and set off down the street, past white picket fences and old cars. No one was stirring at this hour, except for three gentlemen having their hair cut in a barbershop that I found after crossing a field and the train tracks. Nothing was open except the barbershop. I strolled about the business area hoping some breakfast joint might be open, or at least a coffee shop. The antique Cosmopolitan Hotel reminded me of the Doyle Hotel in Duncannon, PA ,right on the Appalachian trail. Definitely the best thing about the AT in PA. A natural food store and more were found, but nothing was open. I wandered through town past the RCMP post near a river, and eventually found my way out to HWY 3, one of the main arteries in Canada. The elderly couple from yesterday told me that the IGA Supermarket was on the west side of town, almost out of town completely. I turned left and headed down the wide shoulder of the highway for a few kilometers until the IGA and a hospital appeared. I could have just as easily walked through town to get to the same place, and perhaps saved myself some smog.

The IGA was, unfortunately, not open for another hour. Luck smiled upon me, however. A coffee shop located right next to the IGA was open and I went in, after leaving my pack outside where I could see it, and took a seat as far as possible from the other customers. Hikers stink. I stink. I try to never go into a place of business without showering or cleaning up. Or, if I do, I try to get out as quickly as possible. These are general guidelines, though, and right now I wanted coffee. I ordered a jumbo cinnamon roll, a breakfast sandwich, and a cup of coffee and sat down with the paper. The cinnamon roll came out hot and gooey, and I topped it with a big pat of butter for extra kick. Good coffee, and the fried egg, bacon, and cheese sandwich was delightful. The paper indicated that the windstorm that mugged me, repeatedly, on LaCoulotte ridge was the southern end of a storm that caused several million dollars of damage in Edmonton, several hundred kilometers to the north. The Calgary Stampede was going on, and I was felt sorry for Mark and Kristine, caught up in it all.

Nine o'clock rolled around and, after four cups of coffee, I decided I should probably resupply and get going. It should be an easy day of walking, with a few minor route difficulties, but nothing strenuous. The IGA was packed with goodies and I took my time in selecting enough food with enough calories to make me happy for the next week. Nutella and peanut butter burritos. Fancy ramen. Tasty snacks. I was glad not to be in a small convenience store hunting for Poptarts. I added a soda for myself and then hauled the goods out into the parking lot in a shopping cart and around the corner to where I would be out of the way of other customers. Repackaging food always takes a while and always surprises one with how much junk is wrapped around the food.

The heat of the day and my tiger-striped (with salt stains) black shirt necessitated a change in to my battered orange T-shirt. It cost me about $10 USD and had made it through two years of weekend hiking, a thruhike of the PCT, and 1150 miles on the AT. It was looking beat, but I liked it. I returned the shopping cart to the store, finished my soda, and shouldered my pack. As I was doing so, a mid 30s father and his 8 year old son approached me smiling. "My son would like to buy you a cup of coffee," the father said. I smiled an embarrassed smile, a little unsure of what to say. People had handed me sodas, hamburgers, and all sorts of food before on the AT and PCT. None of it, save perhaps the Saufley's in Agua Dulce, came as close to making me cry. I wasn't sure if they had pegged me for a backpacker, or just saw me as some one living on the road for a while. A hiker or a vagrant. I took the two dollar coin from the boy and thanked him. I looked at the father, shook his hand, and thanked him. I was already loaded up on coffee and so didn't want to get another cup for the road. However, a pastry in Coleman might be about right.

Even with a week's worth of supplies the pack was feeling good. Brian Frankle of ULA had made a slightly custom version of his P1 pack. Incorporating a quarter length frame sheet and other goodies, he boosted the volume by a few hundred cubic inches to compensate for the increased volume of goods I'd have to haul. I set out onto HWY 3 again and walked the few kilometers into Coleman. I was glad that I resupplied in Blairemore, as the options in Coleman looked slim, but doable. I stopped into a coffee shop and got a large muffin with the money that the father and son had given me, leaving the change with the sixteen year old at the counter. Getting through Coleman took some time, especially as I was planning not to take the GDT and hence had to go all the way through town. The GDT links up with some cut lines and an ATV track to get over to Atlas Road. Atlas Road intersects HWY 3 and so I took the direct, but busier route. Massive Crowsnest peak loomed over the land from Atlas road, striking up and tall above the grassy plains around it.




I kept my eyes open for a stream as I was carrying no water out of town and it was starting to get hot. A kilometer, three, five passed without so much as a drop. I stopped alongside Atlas road to rest with my thirst and spread my gear out to dry from the evening's condensation; camping in a clearing is a sure way to invite dew. No cars were driving the gravel road and this made me happy. Although I couldn't hitch, neither would I be bothered with exhaust and dust. My luck changed with a light switch as soon as I set out, as a caravan of cars started to pass me by, heading to a local lake. I, half heartedly, stuck out my thumb for the first, then gave up. I didn't really want to hitch anyways.

Another kilometer down the road there was a fork that rather confused me. After starting to the left, I decided that the right fork was the right one and began the steep walk uphill, hoping that water would appear. A campsite held many tents, but only one boy, who didn't know where his family's water came from. He followed me on his bike for a few minutes before the hill became too steep for him and he had to turn around. Thankfully at the top of the hill has a gushing creek and an easy scramble brought an end to my thirst. I was looking for a trailhead to take me to Deadman pass, but even the guidebook was slightly cryptic about where I would find this. After walking for thirty minutes, I guessed that I was in the right area and headed to the left, passing a sign for trail rides courtesy of Western Adventures. The spur road led to a ranch, with a horse ring and several people sitting around watching a horse being trained. I asked a middle aged, bare chested man wearing yellow sunglasses where the trail to Deadman pass was. He told me I was on it. I looked a little confused and so took out my maps to show him where I was trying to go. He recognized the area immediately and began telling me about bears and the horse trips he takes in the area. An older man, also bear chested, but with a cowboy hat rather than yellow sunglasses came over and we had a mini conference. After telling them that I was heading to Robson, they seemed to think me a little off, but the idea of such a long walk seemed to strike a funnybone in them as well. I departed, walked through their ranch and headed down to a creek, where a decrepit bridge sat. Mostly broken, I was able to avoid the rusty nails and get across without incident.

The ATV track led through the deep forest and immediately felt remote. Despite the presence of the ranch a few kilometers back, I really was in the middle of nowhere. Horse dung occasionally reminded me of human presence, but without the humans or the horses. In short, it was just nice. Pleasant. Even if the scenery wasn't grand, I was happy to be out here by myself, simply walking. As usual, I had no fixed destination for the night and was just walking until I decided to stop. Deadman pass came and went without an apparent gain in elevation. Its only marking being a cross someone had cut and burned into a tree.

I ate a double helping of ramen by a pleasant creek and lazed about for a good hour, doing nothing in particular. There was nothing to do, no mountains to stare at, no sights to ponder. Just a cold creek and and a few stands of trees. The next few kilometers were a confusion of various logging roads and ATV tracks, but little of the forest had been cleared, at least that I could see. A rigged Jeep crawled by me, moving slowly enough that no dust was kicked up. An old man smiled at me from the cabin and a miniature dog yapped excitedly. Dropping down the road, I dodged off it at a culvert and walked along an old trail through the woods, passing a few cabins and taking pains not to deviate from the instructions in the guidebook. It seemed like a lot of work just to avoid a little road walking: I was heading straight back to the road I had just left. Perhaps it had not been pushed through at the time Lynx came through here. I forded a one inch high fork of the Alexander, and then had to push through a second, but knee high, ford of a different fork. Across the banks was the Alexander Creek Recreation Area, which seemed to consist of a sign and a patch of grass by the river. A cabin stood sat thirty meters away. I pondered the wisdom of camping in this pleasant spot, but wanted to get back to the road before ending for the day. I headed away from the river and walked for ten minutes, expecting to reach the road again. When I found myself in the middle of a thick wood, I turned around and walked back to the creek, assuming that I had missed something. There was no spur trail that I had missed, and so I walked back, once again, to where I had turned around before. I walked for a total, it seems of 1.5 K (rather than the 800 meters in the book), before reaching a sign telling me that the road (hah!) that I was walking on had been deactivated for environmental reasons. I chuckled and glimpsed through the clearing to spot the road twenty meters off to my left.

Back on West Alexander road, I plodded along enjoying the solitude. It wasn't the prettiest of areas, and there were stray cows here and there, but the place had a very wild feel to it that clashed with the signs of civilization. Perhaps it had something to do with the lack of people, and the entire improbability that I would meet any. At 9 pm I reached the end of the road, according to both the guidebook and the map, at a bridge across the Alexander. I was supposed to follow an ATV track up into the mountains, but that would have to wait for another day. I was tired and didn't want to deal with it until tomorrow. The road seemed to keep going for some ways across the bridge, however. I found a hollow in the pine forest, through a bear line, and got camp set up. I had not read the Dhammapada for the last few nights and dived into it full force. Words of wisdom floating across hundreds of years from a man who exhorted his followers to find their own path to salvation put my mind at ease and my heart at rest. It was still light out when I snuggled deep into my sleeping bag, lamenting the lack of a sunset, but happy to be here, in this place, at this time.

---
My choice of campsites was better than the night before when I camped in the clearcut. The cover of the trees caused less condensation to form and I was remarkably dry underneath my tarp when I awoke. Over tea and oatmeal bars I read through the guidebook, once again, and consulted the map. I would get back into the alpine today and be done with roads and ATV tracks. Of course, there was the small problem of several creek fords, a cross country bushwhack, and a mine to traverse before reaching the only built section of GDT outside of the national parks. From North Fork pass down to Elk River road would be classic alpine terrain. Even better, I might spot my first GDT signs and blazes. I left camp around 7:15 and pushed up the ATV track leading away from the nice, big road. Immediately I had to ford a creek, then another. The track disappeated completely in the creek. It seemed that the bed of the flow had altered and there was no longer a path. For thirty minutes I thrashed about in the bush, sometimes picking up a game trail, other times having to walk in the creek to get around thick brush and downed trees. Scratched, swaeting, and in a foul mood I stumbled out onto a large path, presumably the ATV track I had lost in the creek. Taking a left, I reached a nice, big, gravel road, almost certainly West Alexander Creek road, which both the guidebook and the maps indicated as terminating shortly past the bridge near where I had camped. A few minutes later this suspicion was mostly confirmed as the old-man-and-dog in the jeep, that I saw yesterday, came rolling up from behind me.

I continued up the gravel road for an hour, when the jeep came rolling back downhill. Shortly thereafter, I reached the top where my route would become cross country. A beat sign displayed a confusing map of the ATV tracks. This was my cue to leave the road and move through the brush. A faint track led up into the hills, but quickly faded out. I was supposed to follow a ribbon of rock, and there was indeed some grey rock running up hill. Following it, the walking was easy for a while as it led through an opening in the woods. Unfortunately, the ribbon soon fragmented and I was left with a decision. I was climbing toward a pass called The Crown and so decided to head up as much as I could. Fighting through the brush was unpleasant and I made things even harder by going up as much as I could. With all the trees I could not sight the pass nor determine where I should go. So, I simply fought the brush. When there was no more up to sweat over, it was time to go down.

Picking my way through stands of trees and fighting to move towards meadows, the walking was surprisingly nice. Patches of red Indian paintbrush filled the landscape, as did various, smaller blue and yellows. I would run one meadow to its end, fight through trees to pick up another, and then repeat. I could faintly make out the sound of a stream to my left and began to veer off, hoping the stream and the logging road I was looking for might be in the same place. After pushing my way through a few stands of trees, I broke into the open to find a delightful stream, but no road. I sat by the clear water to rest for a while before starting a search for the road; the cool water was refreshing, even at this early hour of the day. I was able to survey the land around. Clear cuts slashed through the woods in several spots, although at times it was unclear whether or not an area had been clear cut, or simply blasted by an avalanche or rock fall. Usually the very steep, inaccessible areas were done in by avalanches, those with roads running to them by men. It was nice here, however, especially when I reflected upon the total lack of humans in the area. Since leaving Coleman, I had seen very few other people. A few cars drove past me on Atlas road. The boy on his bike. The two men at the ranch. The old and and dog in the jeep. The chances of running into another hiker was almost non-existent. It was delightful. Early in the summer I had hiked along the Appalachian Trail. A notoriously crowded trail, both with hikers and gawkers, the AT embodied everything that the GDT wasn't. The AT has white blazes every ten meters or so, to reassure the hiker they are not lost. I was more than 200K into the GDT and I had yet to see an official blaze, sign, or other indication that there was such a thing as the GDT. On the AT I had almost constantly run into other hikers or tourists milling about in parking lots. I had yet to meet my first distance hiker on the trail and those hikers that I had met were mostly clustered in three spots in Waterton. I felt genuine care and compassion from the man and his son in Blairemore. On the AT, so-called Trail Magic felt fake and forced. It was appreciated, but it didn't seem to have much worth outside of making the giver feel like a part of the trail. The AT is about as wild as taking a walk in a city park. The GDT had proved to be mixed, but mostly wild and free. I loved being here.

My break over, I scampered over the creek and up and embankment to find the logging road I was looking for. It had been five meters away from me at the creek the entire time I was musing on the hike. Almost skipping along, I belted down the road under the increasingly hot sun. The road, again, would not see any traffic anytime soon. A friend of Sharon's (Birdie from the PCT in 2003) was supposed to start hiking north from Waterton in a couple of weeks. He and I might be the only traffic the road saw this year. Perhaps a logging truck would come up the road to strip some more trees from the mountain slopes. There were still a few more trees to cut down, a few more dollars to be made off the land. The only upside that I could find to all the clear cuts were the pretty flowers that grew amongst the stumps and shattered hulks of long forgotten trees.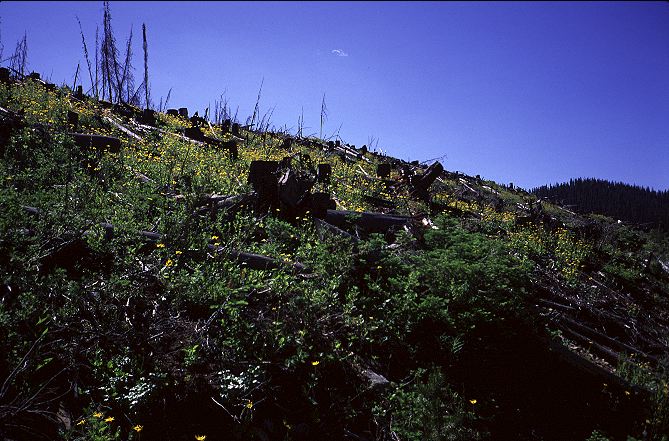 The trail wound around the flanks of the mountains, making sure to visit as many of them as possible, before beginning the descent toward South Line Creek road and the Line Creek mine. Once I gained the road, I would be able to pick up another old logging road that would take me up to North Fork pass and the start of the original GDT and the alpine. I had left the alpine when I finished the fifth peak on LaCoulotte ridge and while the hiking had been pleasant and easy, I was anxious to get back into the mountains once again and be done with clear cuts and logging roads. The descent toward Line Creek hurried my steps and anticipation as Line Creek Mine appeared for the first time. The mine had cut away entire haunches of the mountain, giving it a strange, Mayan pyramid look. Unnatural colors reflected off it. A gleaming black tar road cut a cleared and burned forest. Preternatural rock formations, like those in the Four Corners Region of the desert southwest, abounded. I was a pilgrim in an unholy land.




I wished I had my SLR and big, expensive telephoto lens, with a tripod, to shoot the mine area from afar. I couldn't get close enough with my point-and-shoot camera to take a reasonable photo of what I saw, of what the land had become under the stewardship of the mine company. What were they digging for? What mineral or resource were they removing from the bowels of the earth? Clear cuts might have a chance to recover, for new trees to grow. A mine would never recover, as rock just didn't grow back. Dams could be breached, reservoirs drained. A mine was forever. I reached a spur road to the right that I thought was mine, and dropped down to the river to take a break and fuel up with food before starting the push to North Fork pass and the start of the alpine. It was, again, surprisingly relaxing to sit by the river, with the mine out of sight and the woods uncut. I let my mind drift away from the mine and float down the river. I was in the shade and was cool, but knew that when I got out onto the logging road I'd roast in the sun. It had to be done, and so I did it.

The road climbed and climbed, as expected. Most, unfortunately, it also bent to the southeast. I was supposed to be going to the south. High on the road, covered with sweat, I still could not see the pass I was heading to. It looked like the road was heading straight into cirque, which was something of an annoyance. Passes just don't materialize out of fat air. I found some shade and consulted the map. Instantly, I realized my error. According to the map, I left the main road about a kilometer too soon and my bridge was not the real bridge. I had wasted an hours worth of sweat and effort to gain elevation that I had to give back. Again, there was nothing to be done about it, so down I went.

I reached the main road again after only 35 minutes and set off to find the right way. The map was fairly clear. A kilometer, maybe more. No more than 1.5 K. I walked for 30 minutes without a sign, without a turn. Another 10 minutes went by when I finally found a road dropping deep toward a creek. While I did want to go to a creek, this could not be the road. Signs were posted warning against trespassing. I walked another 10 minutes down the road, wincing at the wholsale destruction of the land near the mine.




My frustration reached boiling point when I ran into a sign telling me I was on South Line Creek Road, the very road I was looking for. I had never left my original road, and there was no place to turn off except for the small spur that I had passed a few minutes ago. I had spotted North Fork Pass high above the mine, and could even see a road running toward it. But, I had no idea how to get to it. I decided to trespass. I walked down the spur road, passing warning signs every few meters. Even this road simply ended at a creek. I was close to the mine now and could see the road that I thought I could take up and out of the mine area. I had been wandering around for nearing four hours trying to find it and my desperation was starting to become annoying. I forded the small creek, then cut cross country to ford another, skirt what looked like a cooling or dumping lake, and finally ducked underneath a conveyor belt running away from the mine. Finally I set foot upon what I thought was my last road. Almost instantly, a large black pickup truck, with tinted windows, rolled up.

I was not nervous. Rather, I was sure that security had been monitoring me and were now here to find out what I was doing here and whether or not I was a threat. To my delight, a window rolled down and a smiling employee greeted me. He was very surprised to see me and asked how I got into the area. I told him how I had spent the last four hours and where I was heading. It seems only mine employees are allowed in the area. He was simply on his way home and offered to give me a lift out to the highway. It was clear that it would not do to argue, protest, or do anything other than graciously accept.

The employee had been working at the mine for two years now and was able to tell me a little about it. It turned out that the ore they were taking out of the ground was "clean" coal. In fact, it was the second largest (to some place in Australia) such mine in the world. All the coal was trucked out to Vancouver where it was shipped to Japan. So, the Canadians were exploiting their own land to sell a product abroad, not to directly improve their own lives. Coal paid money, to be sure, and employed many people. But the end benefits of the product went elsewhere, with the corporation reaping the main financial benefits. Perhaps, however, I had it all wrong.

The employee drove me past the large checkpoint that blocked public access to the mine area and I waved at the uniformed guards as we passed, my thick beard, filthy face, and weather beaten visage must have given them something to talk about. Despite the heat, the windows stayed down, with the AC blasting; a standard precaution when enclosed with a hiker. I was dropped off on the shoulder of HWY 43 as the employee was heading south. I didn't particularly know where I was heading, except that south it wasn't. I thanked him for the lift and looked about for some shade in which to rest and ponder where to go. The GDT was far gone. I would have to make my own path now.

I set off walking north along the shoulder of HWY 43 in the hot sun, looking only for a little shade under which to rest and look at what, if anything, my maps told me was ahead. Waves of green grass fluttered about as the tractor-trailers blew by me at 120 kph, the mountains in the distance sat solidly, apparently uncaring that I had be ejected, even if kindly, from them. I crossed over the HWY to a clump of trees on someone's property and had a sit. My cheese was almost liquid from the heat and its oil quickly softened my hands. One of my topographic maps showed HWY 43, on its far western edge, running straight into a town called Elkford, North of Elkford, the highway became a gravel road and followed the Elk River, which I knew flowed from Elk Lakes Provincial Park, right on the GDT. But, how far? I had walked 5 K down the road and it appeared that I had another 10 K to go. I could cover that in two hours and be in Elkford sitting in a motel room by 8 pm. Beer tonight and breakfast in the morning. All of a sudden, I didn't mind being booted out of the backcountry and out and onto a road. I didn't mind that I might be spending the next two days walking on a gravel road. Huck Finn was taking over from John Muir and everything felt right.

I had walked a kilometer down the road when a blue, mid 80s Mitsubishi ultra-mini-subcompact pulled over onto the shoulder. It was shaking, it seemed, as I scampered up. Two men about my age were inside and wanted to know if I wanted I a ride. I mostly guessed this, as Cyrpress Hill was blasting out of the huge speakers set in the trunk of the car. The bass was causing the bumping of the car. I hopped in quickly, glad to be off the road, and they whisked me off down HWY 43 in grand style. The mountains rolled by accompanied by B-Real and Sen, and I could hardly keep myself from grinning. The driver turned the music down enough for us to talk. They seemed as happy as could be that I was out hiking across their land. They worked to the south in a town called Sparwood and were on their way back home. They loved leaving in Elkford, if for no other reason than access to outdoor life. They didn't seem to know about the mine, which wasn't surprising given the controlled access to the area, but thought my story rather funny. Rolling into town they dropped me off at the Elkford RV park, which was about as central as one could get in such a small place. I thanked them and they tore off, the volume set once again to maximum now that I was gone.

The RV park looked nice, but there was a motel across the street that I was gunning for. Accommodations for the motel were handled out of the bar, which I eventually found my way to. Being British Columbia, the bar was sealed off from outside eyes and hardly marked at all. Unfortunately, for me, the motel was filled with temporary workers from the mine. Apparently a summer renovation was underway and the town was packed with workers. Rather than go in search of the town's other motel, I walked back across the street and got a slot in the RV park for $14, including showers.

I quickly threw up my tarp on the edge of the RV site for its softer ground but also to prevent being run over my an RV in the night who didn't see that the space was occupied. After all, who would actually camp in an RV park without an RV? Standard practice for long distance hikers. I skipped back across the street and bought a half gallon of orange juice and some snacks for the night, then went in search of cold beer. British Columbia, damn them, has special stores for cold beer, and Elkford didn't have one. I could buy warm beer, wine, and liquor from the liquor store, but nothing cold. I could have bought cold beer in the bar, but it would be expensive and the bar was not very appealing, particularly for someone who had spent most of the summer unconstrained by the indoors. I settled on a split of rum and went back to the grocery store for a bottle of coke. Back at my campsite I cooked some dinner and drank rum and coke, as pleased with myself as I could be. There was something in the complete freedom of route that was making the GDT so much fun. I could go when and where I wanted to, without issues of purity or the accusing eyes of others. On the Appalachian trail I became utterly disgusted with the whiteblaze-blueblaze-yellowblaze issue that it really began to ruin the hike. The notion that I had to somewhere simply because it was blazed that way seemed antithetical to the goals of a long walk. Listening to the shelter idiots propound on what the true way to hike the AT was, oblivious to the fact (since I didn't tell them) that I was not following their method. That I was daring to hike more than 12 miles a day. That I would be out hiking by 6:30. That I would eat while I walked. All of these things would have proved to them, again, had I bothered to tell them, that I was not a real hiker. That I was something of a freak. There were no shelter idiots here, there were no hikers, in fact. It was just me out for a walk, and I was loving it. No rules, no regulations, no purity. Just the trip.

Sufficiently loopy, I took my filthy clothes with me to the shower in attempt to get clean. I had no soap, but the scalding water of the RV park more than made up for that little fact. I used my pants as a sort of wash cloth and scraped and scrubbed at my skin in an attempt to get rid of more than a weeks worth of salt and grime. Because I had spent so much time wearing pants and a windshirt I was less dirty than usual. I made an attempt to wash my clothes in the shower and finally emerged in my underwear, quite pink. My arms, neck, and face had gotten a lot of sun today and would be getting more tomorrow along the roadside. I hung up my clothes on some bushes, although for the sake of those around me I did put on my rain jacket. The RV next to me held an elderly man named Otto who introduced himself and brought me a cold beer. We talked for a while about my trip and about his travels. Originally from Switzerland, he had emigrated to Canada to work with various mining companies as an outside consultant. He was here, as he said, for a few days to hold the hands of the mine workers during the summer re-tooling. He and his wife were off to the south to kayak along one of the rivers for a week or two before heading north to the big parks. He loved the land and the time he got to spend in it. I wondered if he ever thought of the apparent contradiction between his employment and his enjoyment. I wondered if I had gotten it all wrong earlier this afternoon. Talking with Otto, none of it really seemed to matter much.

I stayed awake until almost 11 pm, when it was actually dark, in order to finish the rum and coke and complete the Dhammapada. There was something very soothing in its words, especially for a long distance hiker. Buddhism may be the most natural religion for this sort of activity, stressing, well, stressing the important over the non-important. What really does matter? Thought about long enough, the answers Buddhism, at least through the Dhammapada, was providing were very similar to the ones I had come up with last summer on the PCT. There was nothing more perfect than that night, that black night when I was very far from the GDT, encamped in an RV park in a little town that I would never have visited if I had not gotten lost. Perhaps, I thought, my notions of lost, like my thoughts on the environment, were misplaced. I would have much time to examine both over the next few days.

---
I slept fitfully during the night, mostly because mine workers were coming and going quite frequently. Someone even roused Otto and took him off to some emergency. The tone of a diesel truck is about the most annoying sound in the world, especially at night and in the early morning when one is trying to sleep in. At 8 am I finally crawled out from under my tarp. Most of the workers were gone for the day. Otto was getting the RV packed up, apparently done a day earlier than expected. He gave me a couple of fat strips of beef jerky that he got from a local man. We said our goodbyes and he and his wife rumbled out of town as I was taking down the tarp. I packed up my gear and headed over to the restaurant in the motel for an actual cooked breakfast. I was in no hurry to leave town and get out onto the road, which Otto had said ran for about 80 K to Elk Lake. The motel had no newspapers and the grocery store didn't open for another hour. One of the joys of long distance hiking is the complete luxury of time. It wasn't a big deal to walk almost a kilometer to a gas station just to buy a 50 cent newspaper, and then walk back. The morning was pleasantly cool and there were few people out. I walked over the lawn of the local high school, long out of session, on my way to buy the newspaper. Mountains sprung up all around me. There was little in the way of protected land, but it seemed there was opportunity everywhere. I liked Elkford and its remoteness. I liked its green lawns and expansive forests. I liked the people I had met. I simply liked being here.

I sat for almost 75 minutes drinking coffee, reading the paper, and downing a fairly respectable works omelette, hashbrowns, toast, and pancakes. The waitress was apparently used to mine workers and big appetites and didn't even blink an eye when I ordered the extra pancakes. I considered getting another omelette, but decided that it would not do to be stuffed to the gills under a hot sun on a shadeless road. I didn't want to leave town, fearing that the woods alongside the road might be clear cut, leaving me with 80 kilometers of dust and sun to contend with. I considered staying in town another day and perhaps buying an umbrella for the walk to Elk Lakes. I wasn't particularly tired, though, and didn't really want the time off at the moment. Mostly, I was just not looking forward to the road. Huck Finn had gotten stomped by logistics.

I left town a little after 10:15 under very blue, very cloudless skies. HWY 43 turned into Elk River road just outside of town and the pavement became gravel. Conveniently enough the road was marked with kilometers signs. The road followed the meandering course of the Elk River.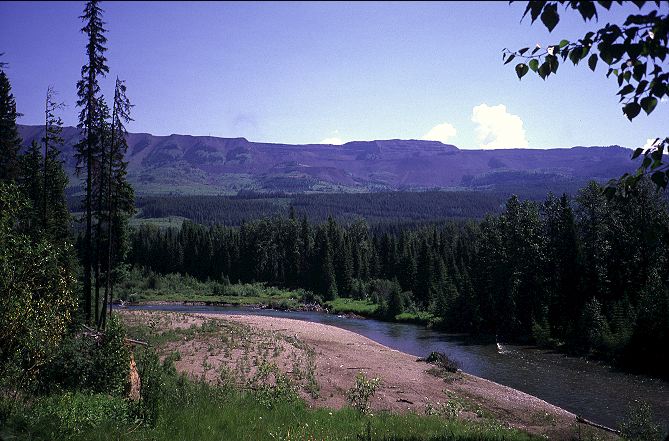 The banks of the river looked broad and pleasant, although I knew from previous experience that walking along soft sand and gravel could quickly turn annoying. I assumed I would have plenty of opportunities to get down to the river for an afternoon swim and so stayed on the scorching road. As the sun moved overhead, marking mid day, the little shade that I did have disappeared. I was pleased to find that not all of the land alongside the road had been cleared. Perhaps only as much as 50 percent. The cleared land bothered me, but I was pleased to find that some had been replanted. There were several large re-plants that had been growing for perhaps ten or twenty years. The trees were, of course, planted in the straight lines that made reclaimed clear cuts so easy to spot, and most were barely taller than I. Still, it was a start and in another hundred years the area, if not cleared again, might have some resemblance to an actual forest. A hundred more years, that's all. I would be long dead, and any off spring I might have would have to live for quite a while to see it happen. Still, if left undisturbed, the land might come back.




I was enjoying my hot walk immensely, despite my subburned neck, face, and arms. Mountains could be seen in the distance and there was little traffic. I passed a family cutting deadfall along side of the road and chatted with them for a while. A bulldozer driver, clearing a spot for logging trucks to turn around, waved me over to chat for a few minutes, surprised to see anyone on foot in the area. A few families in trucks passed by on their way to Elk Lakes, each stopping to see if I needed a ride. A BC Parks ranger in a truck passed and wondered where I was going and whether or not I needed a ride. There was a real feeling of caring out here as, indeed, there seems to be in any remote area. Everyone wanted to help and all seemed to think my hike to be a grand idea, something they might want to do Some Day. In the early evening the skies clouded over and I stopped to make dinner before it might rain on me. I didn't want to cook anywhere near where I would camp for the night as I was hoping to avoid bear encounters. The rain came down softly shortly after I finished dinner and was walking again. The coolness felt good on my burned neck and face and I didn't bother with a rain jacket or the windshirt. As I passed over the 41 K mark for the day, I found a pleasant place to camp just off the road. Mostly flat, grassy, and with a good tree for throwing a bear line. The mosquitoes were something awful and drove me under my tarp in great hurry. I cracked open a book by HH The Dali Lama on the Four Noble Truths, which it seems are as close as it gets in Buddhism to being a definitive truth. That is, they are accepted as the core of Buddhism by all Buddhists. Buddhist or not, they seem to make at least some sense.



Life is suffering
The cause of suffering is desire
To end suffering, it is sufficient to end desire
To end desire, it is sufficient to follow the Eightfold Noble Path



Exactly what the Eightfold Noble Path is is not super important. What is more important is that there is a path (and Buddha exhorted, on his deathbed, his followers to follow their own) and that it can lead to the end of desire, and hence the end of suffering. I struggled with the first Noble Truth, as I found like to be rather joyful and filled with wonderous things and experiences. I had a hard time coming up with anything in my life that might represent long term suffering. I had worked hard at times and been disappointed or sad, but these were usually short lived experiences Simply put, I had not led a life of suffering. However, the Second Noble Truth seemed to me to be fairly self evident. However, some people seemed to suffer for the simple reason of having been born in a certain place or to certain parents or to certain cultures. Or, they seemed to suffer simply through ill luck. The Third Noble Truth was simply a statement in logic: If you remove the cause, you also remove the effect. The Fourth seemed unimportant right now. Taken in the context of a single life, the Four Truths seemed to have some deficiencies. Namely, life for some seemed to involve no suffering and that some seemed to suffer simply because it was their fate, and not for anything that could be attributed to their desires. As I was falling asleep, it occured to me that the problem was hinged in the belief in multiple lives, in rebirth, in reincarnation. The suffering, or lack there of, might be coming from past or future desires. Enlightenment would have to wait for another night.

---
Something was very unhappy that I had camped where I did. A creature, most likely a deer, but possibly a bear, had passed by during the night and, finding me sleeping in one of its spots or blocking access to some food source, had huffed at me enough. One sleeps lightly in the wilderness, even if it is by the side of the road, and I had spent ten minutes listening to it huff and wander about. It wasn't particularly bothersome or frightening, but it did remind me that it was a good idea to always hang my food. There was quite a lot of condensation during the night but I stayed mostly dry as the tarp had not sagged and I was getting used to staying in more or less the center of it. I was up and walking early and found that I had camped only two kilometers from the Weary Creek campsite. It was located at about the 144 K marker on the road although, according to my calculations, the guidebook has it at the 150 K marker. Situated right on the banks of the river, it would have made a very nice campsite for the night and I was a little sorry that I had missed it.

The road was beginning to tire on me and I became focused on getting to Elk Lakes. The GDT had come down from the mountains and joined me on the road just past Weary Creek and we would be together again for quite some time. Lynx describes a truly hard sounding route up and along Coral Ridge, the spectacular mountains to my left. It sounded very, very adventurous, and fun, but more difficult and with more hazards that I was willing to risk by myself. Some Day, perhaps, I would return to hike it.




I passed a sign for Bighorn Outfitters, which is where the alternate route is supposed to begin, and then a sign for the trailhead for Cadorna creek, which is also where the alternate is supposed to begin. A little puzzled as to where it really began, I continued down the road, passing Tobermory and Riverside camps, placed in the opposite order as in the guidebook. The valley of the Elk River that I had been following for so long was coming to an end as the mountains tightened up. The dominant Coral Ridge to my left was being joined with big peaks to the right and I knew that I was getting close to the end of my road walking.




A sedan passed me slowly on the road, heading south. Their trip done, two women smiled at me from the car, apparently not unnerved by the presence of a bearded, dirty man walking along it. Again, that caring thing. In the early afternoon I arrived at Elk Lakes Provincial Park and spotted several of the cars and trucks that had passed me on the road walk in. I sat and rested, weary from the road, at an actual trail sign, very happy to be done with Elk River Road. While it had been pleasant at times, I had been out of the alpine for too long and was happy that I was going to be getting a big dose of it soon. The southern end of Banff National Park was only a day or two away. Mount Assiniboine only a day further. I picked myself up off of the pine needle covered ground and walked on, passing a family out for the day and arrived prompty at Lower Elk Lake. A real stunner of an alpine lake. Walled in with mountains and holding water so blue that one might be tempted into thinking that BC Parks dyed it in an attempt to draw more tourists. One of the families that had offered me a ride was encamped on its shores in one of the most idyllic spots front country sites that I had ever passed through. Because of the long drive along Elk River road, this park was barely touched, it seemed. I detoured over on a spur trail to get a look at Upper Elk Lake, hoping it might be as nice as the lower one.




It proved even nicer and I had to sit and take a break along its shores. It was perfect in every sense of the word, and not simply because I had road walked more than 80 kilometers to get to it. It was a lake that encouraged you to linger, to sit, to rest. A place that one could spend a week at in contemplation of the natural world. A place that inspired one to explore and climb. I didn't want to leave and thought for a while about staking out a stealth campsite (camping being illegal here) along side it. In the end, however, I decided to leave its peaceful shores and make the climb over West Elk Pass and into Alberta once again. There might be cold beer on the other side, as well as an equally comfortable lake. I took a long and final look at the lake before starting the climb on the rocky path up to the pass. Nature knows no flaws.




The climb up to the pass was short but left me sweaty. I reached Fox Lake, a small tarn in another perfect basin, which surprised me as the made indicated that it was on the other side of the Divide. The trail reached a T-junction, again unexpectedly, and I consulted my guidebook. It told me to keep going straight on the trail, but the trail only ran left and right. Straight ahead was nothing but forest. I went to the right and found another trail junction that I could take downhilll and into Peter Lougheed Provincial Park. Apparently the trail had been rerouted sometime in the last few years. I dropped down the pass, walking through beautiful meadows filled with wildflowers and met a party of very tired looking backpackers sitting at a picnic table that had been hauled up by the park rangers. They were heading for the pass and a night at lower Elk Lake. I counted keep myself from telling them how great it was, and that seemed to cheer them. They still had a few kilometers to go before getting there, but they were mostly up and the remaining work would not be hard. When I told them where I was heading, they cheered me by actually having heard of the GDT. A woman among them wanted to hike the trail in the following summer, and idea that I thought, though well intentioned, to be a little ambitious for someone having trouble making the short climb from the trailhead up t o West Elk Pass, a short and easy climb. Still, it could be done and it would forever change her, I hoped, much as the PCT had changed me.

I left the backpackers and began dropping down toward the trailhead, pausing at an unmarked trail junction where, I presumed, the Fox Creek trail ran down toward Boulton Creek. Although headed there myself, I chose the other fork as it went to more or less the same place and had the added bonus of climbing to a view point.




I was back in the mountains and the view from the look out, despite being corrupted by the hum of near by transmission wires, brought some measure of joy to my heart. Tomorrow I would return to the sort of land that I had last had on LaCoulotte ridge, although hopefully with a little less of the drama. I rumbled on down the trail and reached the trailhead parking lot with thoughts of food in my mind. Turning left, I hiked down hill toward the Boulton Creek Trading Post, where I needed to resupply for the long leg to Field, though Banff, Assiniboine, Kootenay, and Yoho parks. Despite putting my thumb out, none of the cars gave me so much as a look. I was no longer in a remote area and hence people might have looked at me with some sense of dread. I understood, but still wanted a ride. As it turned out, I had to walk the two kilometers or so to the trading post, which was deluged by tourons, that highly annoying breed of campers who bring their entire home with them to the outdoors so that they can get some fresh air and see the sights, without being inconvenienced by a lack of television or a steak for dinner. Families who had been riding bicycles on the park's roads were hanging around eating ice cream and a few tired looking, but clean, day hikers sat about. I couldn't spot anyone that looked like they had been in the backcountry for more than an hour or so. I dropped my pack at the doorway of the trading post and went in in search of food and fuel.

What I found was rather depressing. I really needed a new canister for my stove, but all they had was large bottles of Coleman fuel. I had to settled on overpriced solid fuel tabs in case I ran out of fuel before reaching Field, and I knew that I would. I spent $65 on supplies, despite having two days worth in my pack left over from Blairemore. A single package of generic Ramen cost 90 cents, atleast 10 times what you would pay in a regular store. A regular size Snickers bar cost $1.19, and I tended to eat three or four a day. An Uncle Ben's instant rice dish cost $3, and I ate two per day. Cheese was $5 for a small hunk. I added a dozen donuts to snack on tonight, a liter of chocolate milk (unfortunately low fat), and a liter of ginger ale. Despite being in Alberta, the trading post sold no beer, cold or otherwise, except for some non-alcoholic stuff, which was depressing. I went outside to repack my food amongst the tourons, glad that none of them was brave enough to come over and find out who I was and what I was doing in this place. I was just another dirty person of the sort that they avoided in their normal lives, and so I was to be ignored in this place too.

My pack stuffed full, I finished off my soda and chocolate milk and wandered over to the restaurant to see if I could get a meal out of it. I didn't even bother to go inside. Odd looks from people on the other side of the glass windows and the fear of a high priced menu just didn't sit well with me. I didn't want to be around these people anymore. I wished I had stayed at Elk Lakes for the night. Shouldering my pack, I walked out to the road to see if I might happen upon a person who did not look at me as a vagrant and who might have the courage to give me a ride to a campground. On the PCT or AT, this would not have been a problem. On the GDT, it was. I stood by the road at a stop sign, but none of the many cars that passed me even looked my way. After 30 minutes, I gave up and walked the three kilometers to the Mount Sarrail campground, which is supposed to be for hikers and bikers.

I found it filled with cars and tourists who had decided not to drive an RV or bring a trailer. They, instead, brought everything they owned with them in a car. The idea that this was a walk-in campground was laughable. People drove up, parked their cars, then borrowed carts to haul their Stuff the twenty meters to their campsite. I found a place sheltered in the woods and paid my $19 for the privilege of having a picnic table to sit on an rock hard ground to sleep on. I pitched my tarp on the edge of the tenting area to secure ground soft enough to drive stakes in and put some tea on for a change. The (East) Indian family next to me had two large canopy tents and a big cooking tarp under which they could sit if it happened to rain. Soft music came from the stereo they brought, although the amount of work they were doing did not seem to be very relaxing. In the few hours that I was awake, the cooking chores on the large, multi burner stove they brought seemed to never end. Someone was always doing something. The campground host came by in his golf cart and told them that they had to pay a few more dollars since they had two tents. He approved of my pitching my tarp where I had and we spoke for a bit about my trip. He said that two hikers doing the GDT had come through a week before trying to get into Banff via my route. GDT hikers! Only a week a way! I might be able to catch them soon, although I was unsure if I really wanted to. Still, it was nice to know that others were out here, even if far away. Unfortunately, he said, the hikers failed to get through. Turned back by non-existent trails and thick bush, they couldn't get up to Palliser pass. Failing to get through, they returned to the park and were going to try to get around another way, almost certainly by road. This did not sit well with me as the last thing I wanted to do was to return to the packed front country and more roads. I must get through.

I spent the rest of the evening with HH The Dalai Lama and the Four Noble Truths. I pondered the concept of Cause and Effect, one aspect of which is the Buddhist notion of Karma. If they were correct, there is no other logical conclusion than that one life is only part of a long history, or cycle, of lives. If all bad deeds were eventually punished by some unknown structure of the Universe, then people had to suffer reincarnation into a lower form of life. On a grand scale, it is easy to think of people who caused tremendous suffering but never knew it themselves. The evil of previous centuries could be rattled off by even the most naive student of history. That the perpetrators of the evil rarely came to justice is a common fact. In order for Cause and Effect to be valid, they would have to be born again in order to suffer for their crimes. Good people who suffered now would therefore be paying for sins in a past life, for transgressions that they would have no idea that they ever committed. On this point HH The Dalai Lama was a little unclear, as was the Dhammapada. It might be that people were suffering not for past sins, but also for future ones. Or, that they might be suffering in order to learn about suffering for use in some future reincarnation. Much was unclear. The only thing that seemed evident to me was that I tomorrow I would try my best to get up to Palliser pass and into Banff, where the trails, I was assured, would be sweet and the hiking easy. I hoped for the best. I hoped. I Hope.

---