Boulder Lake Scramble
October 1-2, 2004
On Friday, October 1, I left Lakewood at 1 pm after finishing teaching for the week and drove toward the upper end of the Olympic Peninsula. I was heading for the Elwha basin, near Port Angeles for a weekend of scrambling. The weather was perfect and I wondered how many more weekends like this I might have. It took me nearly three hours to get from Lakewood to Port Angeles, thanks to bad traffic in some spots. I stopped into the Hurricane Ridge visitors center of Olympic National Park to pick up a backcountry permit for my overnight camp at Boulder Lake. Although I held a Golden Eagle Pass, I still had to pony up $5 for the permit, plus another $2 per night. I thought the fees rather silly, but had to pay them regardless. Permit secured, I raced along the road to Elwha, slowing down only where it began to climb and turned to gravel. The parking lot at the end of the road held a few cars. Two backpackers were setting off up the trail, heading, no doubt, for the Olympic hot springs, which are only a few miles up the trail. My plan was to hike up to Boulder Lake and camp for the night, then in the morning head cross country and climb Boulder Peak, Everett Peak, and Mount Appleton. No trail connected them, but I was confident I could make my way across all three. After all, the trip was listed in a guidebook, so how hard could it be?

The trail followed an old road (still paved in places) for the first two miles to where it climbed, briefly, past the hot springs and a campground, where I found the two backpackers I saw earlier. I wanted to get into camp and cook before it got dark and so pushed on above the hot springs, now on good trail. I was sweating hard and beginning to chill when I finally reached Boulder Lake and its "campground". A group of about fifteen middleschoolers, with their handlers, had camped in the sites, something I was pretty sure was not according to the regulations. I didn't particularly care about the regulations. I was really just smarting from having to pay $7, plus the cost of the Golden Eagle, just to access my own land. One of the handlers introduced herself to me and told me that they would be quiet and were planning to leave early in the morning. I thanked her, and assumed that early meant 9 am, by which time I would be long gone. I walked around the minor lake and staked out a spot in which to camp near the bear lines. After cooking and eating and hanging my food (I suppose the hang was worth something, but I could bear bag for free if it wasn't there), I got into my sleeping bag and spent an hour drinking Canadian whiskey and reading James Baldwin before nodding off.

The middleschoolers had surprised me by actually getting an earlier start and they were gone before it was light out. I made tea and had breakfast before packing up and starting my cross country route. The guidebook indicated that there was a good climbers trail running along the right side of the lake that I could take up to a pass, where it looked like I could climb Boulder Peak, above me, and then proceed down to another set of lakes and up to Everett. The good trail quickly dispersed in a large clot of deadfall and I had to proceed through some brush to reach a rock gully, which promised easy hiking.

I took the gully for a while and easily gained elevation, but it was drifting too far to the right. I needed to go left to get to the pass and so I left a good route for a bad one (wrong decision almost always) directly through the bush. The steep mountain side was clogged with trees and bushes and it took a lot of effort and care to get through the brush. I was working very hard and was continually forced back to my right, toward the gully, by overly steep slopes or very thick brush. Sweating and scraped by the vegetation, I finally broke into a clearing where the scrambling was easier. Following the gaps in the trees, I was forced further right. I could have continued to fight to the left, but by this point I was tired of the struggle and wanted some ease for a little while. I gained elevation on the steep, but clear, slopes until I came back to the top of the gully. I could have saved myself a lot of effort by simply sticking to the gully. At least I could look back to Boulder Lake and my camp, far below me.




I faced a choice at the gully: Go for Boulder Peak from here or continue up to the top of the ridgeline and try to get directly to Everett Peak. While Boulder would have been a reasonable scramble, I would have had to cut across a rockfall area, which was never the brightest of ideas, and traverse along a steep slope, something I was loathe to do. I reasoned that I might be able to access the peak from the ridgeline above me and this seemed the most sensible way to proceed, given that I was off trail and by myself.




There was a some form of trail running from the head of the gully up toward the ridgeline, although it faded out frequently. No trail was necessary, at this point, as the trees were few and it was clear where one had to go. Near the top of the ridge the trail came back into existence and I followed it to the top, where I received something of a jolt.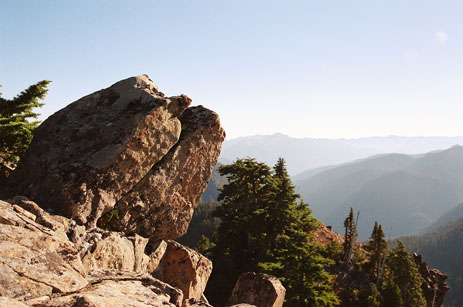 The ridge was fairly knife-like and safe route over to Boulder Peak was probably not going to materialize. Plus, the face of Boulder Peak that I would have to deal with looked to hold some vertical rock. Nothing bad, but enough for me to want someone else around, and maybe a rope. The other side would have been much easier. Worse, I was far above the pass that I thought I could take down and up to Everett. A nice lake lay at its base, and I could spot the pass that I wanted and the easy route down. However, the other side, the climb up, looked truly gruesome. Rockfall central, and me without my helmet. Mount Appleton looked very doable, particularly as a long ridge led right up to the top of it.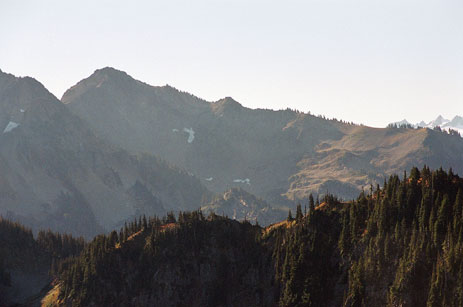 Sharp, snow bound peaks could be seen on the other side of the ridge, but they were far from my mind at this moment.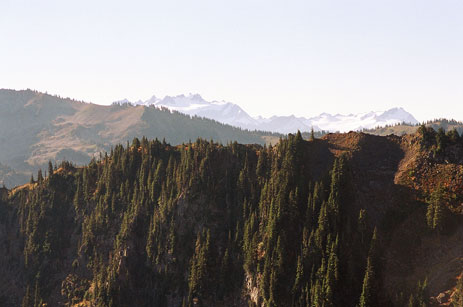 I dropped my pack and decided to have a think. Looking at the land, I could probably work my way down the ridge to near the pass and make the lake at the base of Everett. The climb up the other side did not look too steep or exposed, but the rockfall worried me. During the ten minutes of my thinking session, I heard several minor slides. It would only take one ill timed rock and I would be in serious trouble. Falling didn't scare me (I wouldn't fall). But rocks falling on me did. By myself, off trail, and without a helmet. I decided that discretion was the better part of valor, particularly since no one would be around to see my triumph (or demise) and that it was best not to proceed.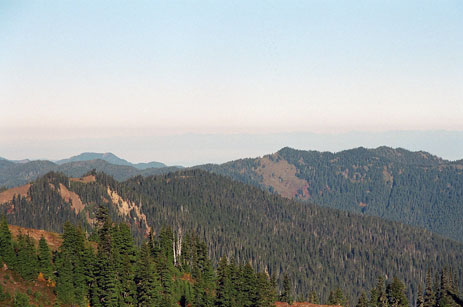 The decision made, I decided to lounge about in the sun for a while before retracing my steps. Wet with sweat, I took off my clothes and hung them up on local bushes to dry while I sunned on a flat rock. It wasn't hot out, but with the sun directly on my skin it was decidedly pleasant. A soft breeze blew and not a sound could be heard that was not here a thousand, two thousand, three thousand years ago. Few signs of man could be seen, despite the long distance views.




I sat and meditated and thought for an hour while my clothes dried before I set off back down the side of the mountain, fully dressed once again. I followed the rock gully this time, which led all the way to shores of Boulder Lake. I skirted around the left side of the lake on a reasonable looking trail that seemed to go to the pass that I originally wanted. Another time, with more gear and support, I thought. With plenty of time on my hands, I strolled down the trail, passing the backpackers from the day before as they hiked up toward Boulder Lake. I took the time to search for some mushrooms, which isn't hard in the Olympics. Although I can only identify two kinds of edible mushrooms, I liked looking for interesting fungi. The lower reaches of the trail, above the Hot Springs, sit in dense woods with perfect growing conditions. Near a large patch of Devils Club and a stream I found some interesting varieties. If you know what these are, or if they are edible, please email me. This one was growing at the base of a downed and decomposing tree.




These ones really are purple (more lavender, really) and seem to be the same ones that I spotted in Mount Rainier NP on the previous weekend.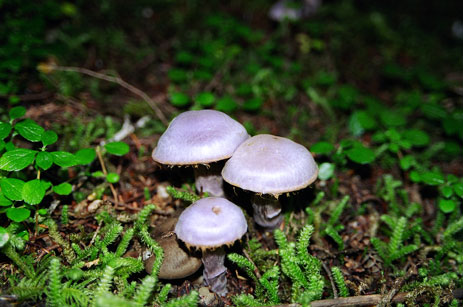 There were several large colonies of these mushrooms, which seemed to resembled the straw mushrooms you often find in bad Chinese or Thai restaurants.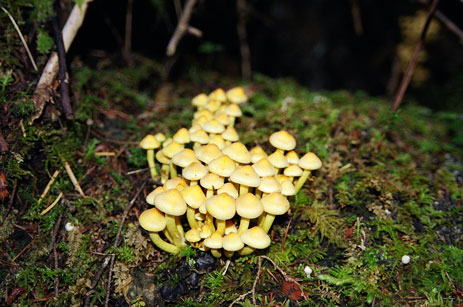 ---
Logistics
Drive on HWY 101 heading north to Port Angeles. In Port Angeles, follow the signs to the Hurricane Ridge Visitors Center, where you can get a backcountry permit. It will cost you $5 plus $2 per person per night. In season, you might be able to get a permit at the Elwha Ranger station, but I am not sure of this. Continue on 101 for a few miles and make a left on Olympic Hot Springs road. You'll pass an entrance station to the park, where you'll have to pay an entrance fee of $10 per vehicle, or show a annual pass of some sort. Further on is a ranger station, which may or may not be staffed. Stay on the road, which turns to good gravel (my 1991 Camry was fine on it) and begins to climb toward the hot springs. It is about five miles on the gravel road to the Boulder Lake trailhead at the roads end.

From the trailhead, the Boulder Lake trail runs 5.3 miles up to Boulder Lake and is well maintained and easy to follow the entire way. Indeed, the first two miles are on an old paved road. The trail gains about 3200 vertical feet on its way up, but it isn't terribly steep (I was sweating, but not tired when I got to the lake). From Boulder Lake, you can work your way on a trail past the bear wires, struggled through some deadfall, and then pick up the trail again, which leads to a rock gully. If you just want to gain the ridge for some views, stay in the gully until it ends and then follow the obvious route up. If you want to climb Boulder Peak, you'll need to detour to the right of the gully to gain the ridge. From what I could see up high, once you clear the trees, the route up to the ridge is steep, but doable. Once on the ridge, gaining the summit should present no problems.


---