Mount Ellinor, Olympic National Forest
October 23, 2005
After having been cooped up for the last few weekends due to poor weather and a general lack of enthusiasm for hiking alone, I joined The Mountaineers and signed up for a hike to the top of Mount Ellinor. When the weather is good, this is a spectacular hike. When the weather is poor, it is at least a good work out. I was late coming out of Lakewood due to talking for too long while getting coffee and had to hammer out to the trail head, surprising a SUV on the unpaved access road on my way up. The group of three others from the Kitsap peninsula were just about to set off when I pulled into the lower parking lot and introduced myself. The mist was thick enough to wet you down as you moved through it, but it wasn't actually raining and it wasn't as cold as I thought it might be.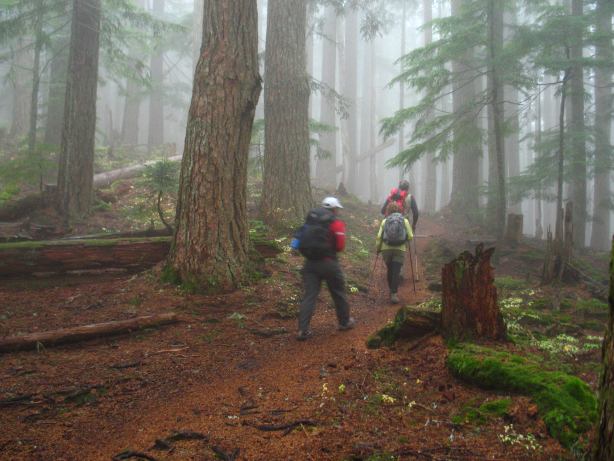 We moved well up through the forest, resting from time to time, and talking as we went, but slowed when we began to enter into the rock zone. The trail gets rather steep at this point and the wet rocks forced us to step carefully in order to remain upright. The last time I was here most of the upper area was covered in snow, which actually made the climb easier as I could take a direct line and had fewer footing issues.




Ellinor keeps grinding and grinding at you until you think that you must be at the top and spy a small notch, which appears to be the top. Unfortunately, the notch is only a low point and you still have a few hundred feet of vertical to go before topping out. We made it 2.5 hours after setting out and joined the few other people who had come out for exercise on this viewless day. I was actually a little surprised to see people up here (we passed more coming up on our way down) given the weather. Washingtonians are a bit hardier, I suspect, that people born and raised in the midwest. I took a picture of Mount Olympus before heading back down to the cars.


---
Logistics

From Lakewood, drive I-5 south to HWY 101 and take this through Shelton to the town of Hoodsport. In the middle of town, make a left onto SR 119 at the signed junction and head toward Lake Cushman - Staircase. Drive about 11 miles to where SR 119 hits a T-junction. To the left is Staircase. Make a right and drive about 1.5 miles on a good gravel road (a few potholes) and then make a left turn on yet another gravel road. There isn't much of a sign, but the road is hard to miss and there is a sign (in the other direction) just past it. Drive up about 5 miles to the lower trailhead, which has a sign on it. The road is narrow, but is in good shape and my Camry has no problems with it. Continue on the road for another two miles to reach the upper trail head. You'll need a Northwest Forest Pass or other parking permit (like a Golden Eagle Passport) or risk getting a ticket.

From the lower trail head to the top is a bit of a grunt. Two guidebooks list the distance at about 3 miles, but I think this is a little short (not by too much). Vertical gain is about 3200 feet, so the hike is a bit stiff. Starting at the upper trail head cuts off about 1.5 miles and a thousand or so feet of gain. No special skills are needed to get to the top and this would make a great hike for someone in shape, but not used to exposure.
---