Mount Fremont Lookout Tower, Mount Rainier National Park
August 24, 2006
In Lakewood we had nothing but clouds. In Buckley we we had nothing but clouds. But as my sister and I neared the White River entrance station to the park, the clouds parted and pure sunshine rained down upon us. Hiking in the rain and mist, without views and quite cold, would have been a more authentic introduction to Washington for my sister, but I'd rather have the good weather.




We got a rather un-alpine start on the day, not starting our hike until 1 pm, and thus decided on doing something a bit shorter than Goat Island Mountain, my original plan. We walked up the easy path coming out of Sunrise and headed for Frozen Lake, gawking at the stunning views of Mount Rainier and Little Tahoma. Their fractured glaciers and broken icefalls were beautiful from afar, but would have been very frightening had we been on the flanks of the first and third highest peaks in Washington.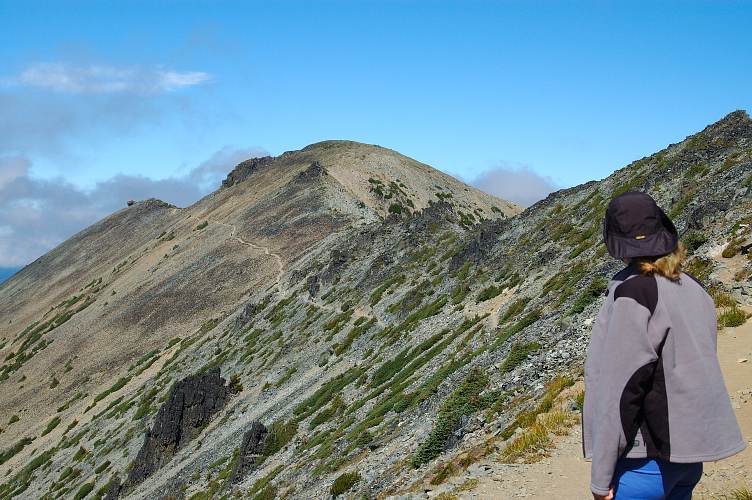 We rounded a corner and spied the look out in the distance, perhaps ten minutes away along an easy trail. However, clouds and mist were coming in and by the time we reached the tower, the wind was blowing, the clouds were here, and visibility was reduced to thirty feet. In an act of defiance, we sat and waited, hoping for the clouds to blow off.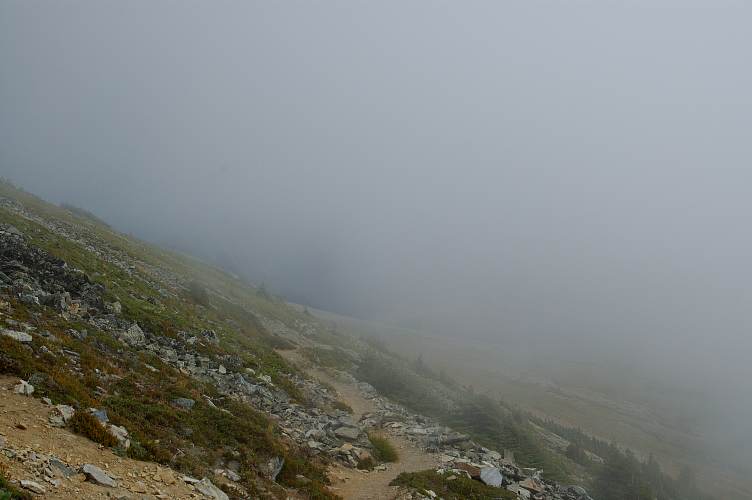 It is never a wise idea to challenge the weather in the Pacific Northwest and after thirty minutes we admitted defeat and began the hike back to Sunrise. Along the way, however, the armor of the clouds showed a chink, if only for a moment, and we got a last, vastly different, view of the two big mountains to carry with us until the next time.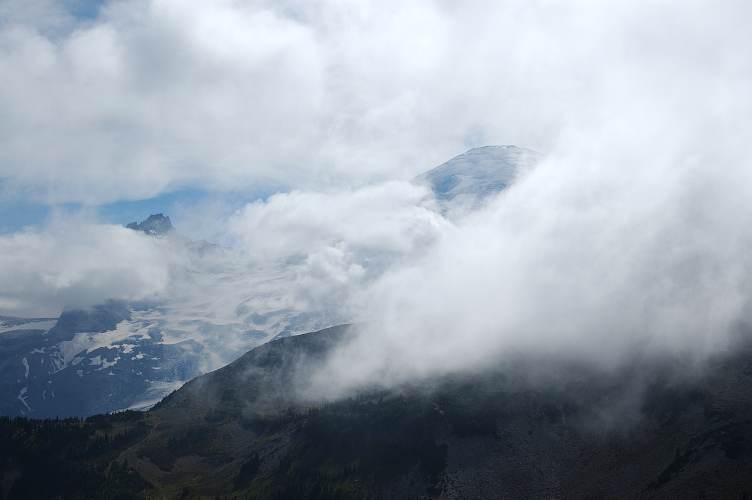 ---
Logistics

From Lakewood, take SR 512 east, following the signs for the Sunrise area of Mount Rainier, passing through Puyallup. Hop on SR 410 and take this through the towns of Buckley and Enumclaw, all the way to the White River entrance to the park. Continue on the park road and follow the signs to Sunrise, which is at the end of the road, way up from the valley floor. Park as far down in the parking lot as you can, as the trail starts from that end of things. Climb up to the ridge above you on any one of several trails, then tend toward the left, heading to Frozen Lake. Reach a five trail junction and follow the left most trail (signed for Mount Fremont) to the lookout tower. The trail is about 2.5 miles one way and gains maybe 800 feet. It makes for a very good short hike as the scenery is always spectacular and would be perfect for non-hikers.
---