Gold Creek Valley, Mount Baker - Snoqualmie National Forest
January 14, 2006
I was very surprised to awake to the sound of rain outside my apartment, as I thought that there was no way it could possibly rain for 27 days straight. Surely 26 would be enough for the Jet Stream. The rain intensified as I drove toward Snoqualmie Pass, turning to snow only when I reached the pass itself. I found the Gold Creek Sno Park (i.e, the side of the road) easily enough (I was looking for something else) and quickly got my snow shoes strapped on while there were still only a few people about. Two local landowners had just ridden out on their snow machines, which meant that there was a nice track through snow for me to follow, and I made good time through the woods to a junction with a track to a lake, marked by a really half-assed snowman. Last I checked it was against regulations for snowmen to have arms coming out of their hips. And what, I thought, was the deal with the pseudo-crown-of-thorns he was sporting?




Leaving the graven image, I continued up the track passing by some private homes on my way to another junction where I found three cross country skiers out for a glide. I talked with them for a while, eyeballed the way they came, then started to follow in their tracks. And then I met Joe. Joe was coming from the opposite direction and assured me he was coming in from the road. We were both a bit puzzled when I told him the road was behind me. As neither of us wanted to risk a short day, we both lit out in the direction the skiers had come from. In his late 50s, Joe was from north east Seattle and worked as a budgetary analyst for Boeing. Normally I like being alone in the winter in the woods, as it is the only place outside of the desert where I've experienced true stillness. I found myself liking Joe's company as we climbed over minor hills and through the woods, completely off track, and past more small chalets.




I flopped over for a break, which gave Joe a chance to get a running start on me while I munched on a packet of cheese and crackers that I had bought in May and never got around to eating. With Joe gone, the land was still once more. Occasionally some snow would fall on me, but not enough to make a sound. Back in the Puget Sound area, the air is always crowded with noise. Even in the deep of night, when the cars have left the roads and no one is about, you can still hear the hum of electricity, or the occasional thump of a large gun from Fort Lewis, or the not-so-stealthy waddlings of a local raccoon. Sitting still in complete silence is almost narcotic. Joe had a good 15 minute head start on me and I thought it about time I tracked him down. It wasn't that I was bored or lonely. I just liked Joe.




I found Joe 5 minutes later drinking some water in a clearing and we set off together along the excellent track that had cost someone else a lot of effort to make. Talking as we went, I wondered how I could have ever thought people in the area were not friendly. Not just me, but others seemed to hold the same idea. But here we were, two complete strangers out in the woods in the snow, and we were on the friendliest of terms almost immediately. I hadn't had so much fun doing something so easy in a long time. Of course, the easy times were about to fade away when we found a party of four snowshoers resting in the snow. Ahead was heavy, wet snow for me to break trail through. After a while I lost the trail corridor and we came out to an open slope (probably a scree field) on the flanks of Rampart Ridge.




I stepped a bit further out to get a photo and collapsed into a stream, buried up to my stomach. I heard a cry from behind and turned around to see Joe almost neck deep in a tree hole. Might as well turn around, we both thought. Neither of us had any particular destination in mind, which meant we were free to go where ever we wanted. Having no plan was complete freedom. On our way back we met some more snowshoers following our tracks and joked with them in passing before stomping out a rest platform and making some hot drinks.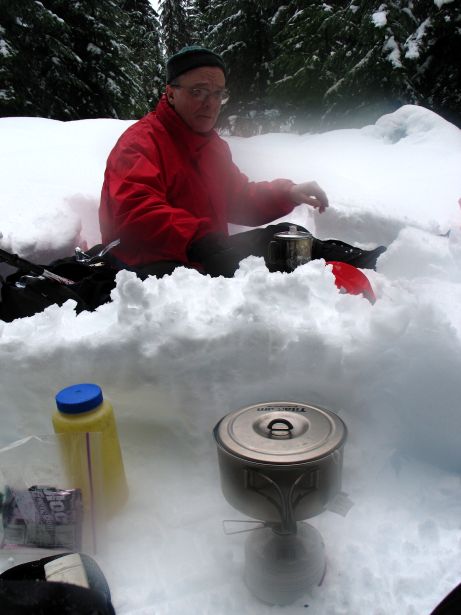 I downed half a liter of mint green tea (which is better with rum than without) while Joe had his hot chocolate. Just sitting in the snow and listening to Joe talk about his 50 years in Seattle, or his study of the history of the peoples of the Olympic coast, or telling him about my thruhike of the PCT, was pure pleasure. We sat for thirty minutes watching snowshoers cruise along our well made path, then return five minutes later when they reached the end of it and realized they'd have to start putting forth some effort if they wanted to continue up the valley.

We shoed our way back down the track and parted ways at a turn off for a lake that I wanted to see. Our time together was up, but both of us knew how small the world really is and I'm fairly confident that I'll run into Joe again. I made my tour of the lake, passing many happy, smiling families and groups along the way. I chatted with a few, laughed with others, and still couldn't imagine that it was ever possible for me to think that people in Washington were somehow not friendly. On my way back to my car, I realized that I was trying to compare apples with oranges. Out here, people were different. I was different. When I got back to the Sound, I'd find different people, just as I would be different. I wasn't sure I liked that very much.


---
Logistics

Drive I-5 north to SR 18 and head east on that fine road until you hit I-90, which you take to the east as well. Drive to the summit and turn off at Exit 54. Make a left turn and drive a few hundred yards to the access road, which is plowed. Drive about a mile down it to the Sno-Park, which seemed a lot like the side of the road to me. The trailhead is marked. You'll need a Sno Park pass, which will run you $21 for the full season. The land is pretty flat all the way to where Joe and I turned around and novice snowshoers should not have a problem.
---