Kautz Creek, Mount Rainier National Park
December 31 - January 1, 2004-05
Rather than struggle to stay up to midnight on New Year's Eve, I thought it much better to go out for my first snowshoe trip. And, what better place than Mount Rainier? Even better, there was a good weather forecast for the weekend. I drove up to the Longmire complex and got a overnight permit to camp. Unlike the rest of the year, once snow is on the ground you can camp where ever you like as long as there is at least a foot or two of snow. The ranger was very excited that I was heading up Kautz Creek to Indian Henry's Hunting Ground, which he thought to be a great winter destination.

The weather was indeed sublime, with quite a bit of blue sky, though it was rather chilly out, even in the sun. I geared up and left from the Kautz picnic area, walking through the forest, devoid of any snow. I crossed over Kautz Creek on the slightly slippery log bridge, but missed out on the view of Rainier as a big cloud was sitting on top of it.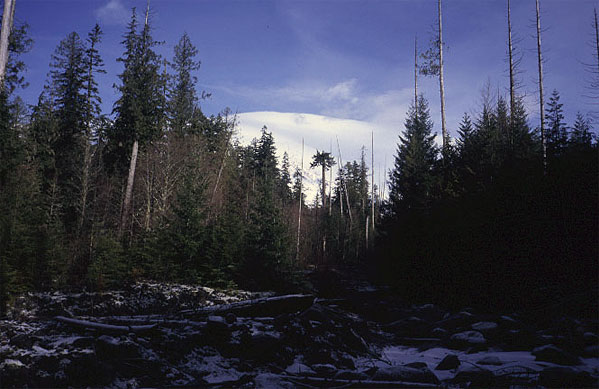 As I climbed higher I began to encounter some snow, but nothing deep enough for snow shoes. Up and up and up I headed, still carrying my snow shoes on my back, and wondering if I would get a chance to use them on this trip. Clouds began to gather and it seemed destined that I was neither to get a view of Rainier, nor use my snow walking shoes.




After passing through some trees heavily laden with phlumf, I topped out above Indian Henrys and completely lost the trail. The snow on the north side of the hill that I had been climbing was much thicker and I had no idea of where to go, other than knowing I had to go down hill.




At least I was able to put my snowshoes on and romp about. After thirty minutes of exploring in the forest, I decided that I would just camp for the night and not worry about finding my way down to Indian Henry's.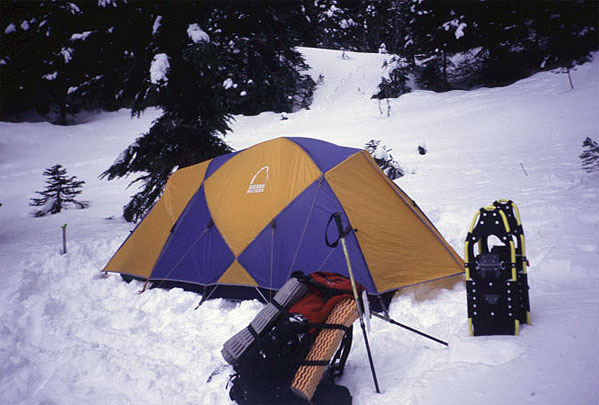 I spent more than an hour to get my new tent pitched on a stable base of snow and was really rather fortunate that it wasn't raining or snowing on me. Chilled from the inactivity of camp setting, I quickly brewed up some tea and had some food to eat before writing for a while. Winter camping involves so much tent time that one must string out every activity for as long as possible. Thus, I spent an hour and a half writing and drinking tea, before spending another hour cooking and eating dinner. Eventually I had recourse to A Hero of Our Time, by Lermontov, and a bottle of R&R to keep me company during the long, cold night.




In the morning I drank more copious amounts of tea and finished up Lermontov (one of the best, if basic, novellas I've ever read) before striking camp and setting back down the hill toward my car. Unfortunately, the clouds had not lifted and Rainier was still obscured behind a wall of grey air. When I reached Kautz Creek again, snow began to fall and by the time I reached my car, it was falling hard and thick, although not sticking very much.


---
Logistics

The Kautz Creek trail runs from the Kautz picnic area on the south-west side of the park, up to Indian Henry's Hunting Ground and a junction with the Wonderland trail. The trail gains about 3000 feet over its 5.5 mile course, which means it is a little bit of a workout, particularly on the higher reaches of it when snow covers the trail. There is one crossing of Kautz Creek, and this is on a log bridge and can be a little delicate if it is cold enough for ice to form on the bridge. Be careful! You need to get an overnight permit from the ranger station in Longmire, but are not restricted in terms of established campsites: Anywhere that has more than a foot or so of snow and isn't located on a trail or directly next to a water source is fine.

From Lakewood, take SR 512 east to SR 7 and follow the signs directing you to Paradise. After passing Alder Lake, reach the town of Elbe and take SR 706 to the Nisqually entrance station of the park. Unless you have an annual pass of some sort (Golden Eagle, for example), you'll need to pony up $10 at the entrance station. The Kautz picnic area is a few miles up the road. Continue another 3 miles past Kautz to the Longmire complex, where there is an inn, restaurant, ranger station, and interesting museum. The ranger will probably be at the museum so that is where you'll need to go to get a permit. If you continued past Longmire on the road, you would eventually reach Paradise, but you'll probably need chains to do so: When I was there, there was a ranger checking cars to make sure they had chains on before letting them proceed. Chains are not needed to get as far as Longmire, however.
---