Rampart Ridge, Mount Rainier National Park
February 12, 2005
I thought that I would outsmart the weatherman and head up onto the slopes of Mount Rainier for an overnight trip in the snow in Van Trump Park. Rain and snow was forecast, but I knew better and headed out around 9 am. In beating rain. By the time I got to Longmire, it was only normal rain, but I had no desire to haul a lot of gear all the way up to Van Trump park in the rain. So, I put on my runners instead and decided to day hike part of what I had planned to back pack. The trek up the side of Rampart Ridge, that big thing that stares down at you from Longmire, was almost completely snow free, except for the snow that was now falling in place of rain. A view point broke through the thick trees, but with the mist about I couldn't see very much.




It didn't matter, as the forest was pleasant enough and sheltered me from the falling snow. I thumped past two day hikers carrying what looked like full packs and then stopped to talk with them. They assumed that I was running the trail (I went by them at the blazing speed of 3 miles per hour) and that I worked at the park (I didn't have a pack on). I chuckled a little bit and told them the truth, that I was too soft to haul a pack in the rain and snow. They seemed to think this amusing and I pushed on for the top of the ridgeline. Snow began to pack on the trail, but it wasn't more than three or four inches deep, and well compacted by other hikers.




I was sweating rather alot by the time I reached the Longmire viewpoint which, surprisingly, looks down into Longmire meadows, where sits the Longmire complex.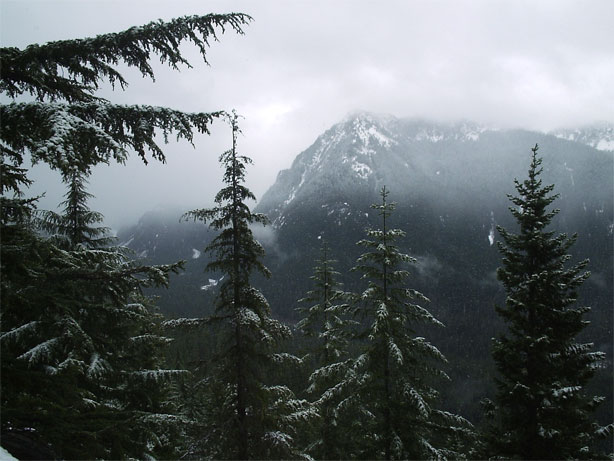 What I think is Eagle Peak was just visible on the other side of the valley and I made a mental note that I'd have to go over there sometime this spring. Should be rather stunning on a nice day. I returned to the main trail from the viewpoint and motored along in the snow, enjoying the bit of exercise and mountain air. The trail was almost flat now, although it did descend a bit in places, giving nice views into the valley on the other side of Rampart Ridge and Longmire.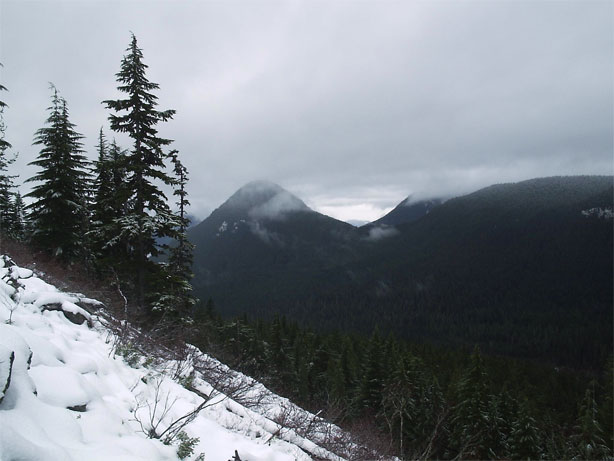 It wasn't until I drew close to the junction with the Wonderland Trail (I could hear voices from some resting hikers), that I realized that there was no phlumf. A bit disconcerted, I looked for some in a small meadow off to the side, but could locate only a dusting of snow on the trees in the meadows. I did find a little baby tree that had some snow on it and proclaimed it good enough for a phlumf shot, then pushed on to the Wonderland.




At the Wonderland were two fathers and five young boys. We talked for a while and then I headed out along the Wonderland while they descended. I was originally going to drop down, but wanted to wander a bit more along the snowy trail before returning back to the junction and descending. The snow ran out quickly as I dropped elevation. Occasionally, some ice would drop from a tree near me, but it wasn't phlumf. My first winter in the Pacific Northwest, and I can hike up to 4000 feet in Mount Rainier National Park without a single phlumf sighting. This is a bad winter indeed.


---
Logistics
Rampart Ridge can be easily hiked as a loop starting in Longmire. To get to Longmire, take SR512 west briefly and then exit onto SR7, heading south. Keep on 7 until you reach SR706 and make a left on it for Paradise (signed, you can't miss it). Drive 706 to the entrance to Mount Rainier National Park. You'll need to pay them some money to get in, or have a pass of some sort (Golden Eagle is what I have). Keep on to Longmire and park near the museum. Cross the road you just came in on and pick up a front country nature trail, walking back in the direction you came. In about 200 yards, you'll reach a left turn for the Rampart Ridge Trail. It is a little steep in places, but broad and overall is a pleasant hike up to Longmire Viewpoint (a little under 2 miles up the trail). Once you pass the viewpoint, the hard work is done. Continue along the ridge until the Wonderland Trail and make a right turn. In about 1/4 mile you'll reach a junction with the Van Trump Park trail, which you could take for another 4 miles to Van Trump Park, Comet Falls, etc.

---