Rampart Ridge, Mount Rainier National Park
October 29, 2006
With a forecast of showers, I was more than a little surprised to wake up to complete, stark, beautiful, warm sunshine. Blue skies abounded. I didn't have anything pressing to do, so I quickly dressed and raced out to Mount Rainier, hoping that the sunshine might last for a while longer. It did not. By the time I reached Ashford, just outside the park, clouds were blazing along under a heavy wind. I needed exercise anyways and so went for a short walk up Rampart Ridge, the prominent feature looming above Longmire. Being a lower elevation trail, there was still quite a bit of nice fall color hanging about along with the persistent green of the firs and pines.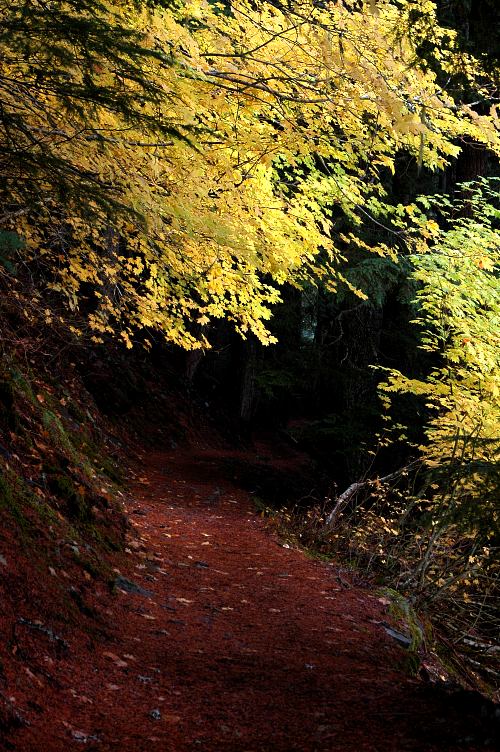 It took me a whole half hour, after an hour of driving, to reach the top of the ridge and the lookout over Longmire. I could see my car in the parking lot, 1200 feet below me. How nice. Rainier was covered in clouds, but it was clear that there was growing snow on the road toward Paradise and soon you'd want chains before heading up.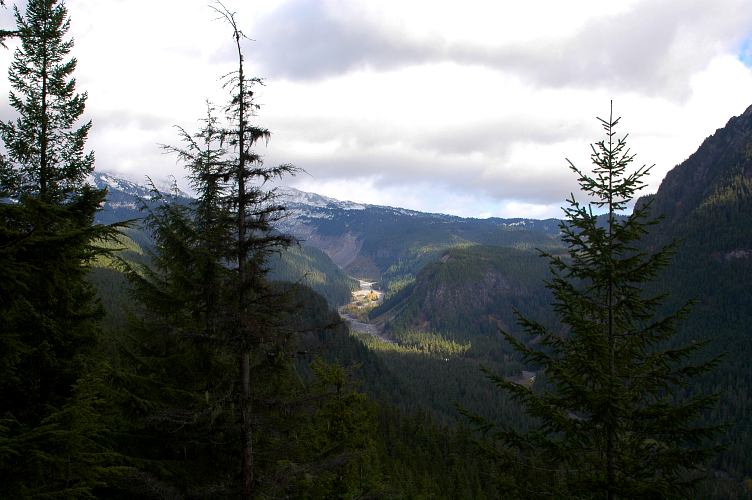 I meant to come directly down, race back to my car, and then drive up to Paradise, but got caught up when I started noticing little small things, like a fine patch of Goat Beard draped across some dying limbs. Interspersed through the lichen were many frozen droplets of water. I only noticed it because the sun came out at just the right moment and the entire lichen-limbs-droplet complex began to sparkle like the sea on a sunny day.




The sun quickly went away and I realized that pictures were a lost cause. Not having my Saint Jude necklace, I moved on to gawk at other little wonders.




I spent a half an hour on top of the ridge poking about, looking for small, non-obvious things, like bits of fungi and interesting swirls of moss and rot on dead logs, but the wind was blowing hard and cold and my blood was still thin from a warm summer. I raced back down the ridge, having forgotten about Paradise and all of its big, obvious attractions. The small seemed to be enough for me.


---
Logistics
From Lakewood, take SR512 west briefly and then exit onto SR7, heading south. Keep on 7 until you reach SR706 and make a left on it for Paradise (signed, you can't miss it). Drive 706 to the entrance to Mount Rainier National Park. You'll need to pay them some money to get in, or have a pass of some sort (Golden Eagle is what I have). Keep on to Longmire and park near the museum. Cross the road you just came in on and pick up a front country nature trail, walking back in the direction you came. In about 200 yards, you'll reach a left turn for the Rampart Ridge Trail. It is a little steep in places, but broad and overall is a pleasant hike up to Longmire Viewpoint (a little under 2 miles up the trail). Once you pass the viewpoint, the hard work is done. Continue along the ridge until the Wonderland Trail and make a right turn. In about 1/4 mile you'll reach a junction with the Van Trump Park trail, which you could take for another 4 miles to Van Trump Park, Comet Falls, etc.

---