Shi Shi Beach, Hurricane Ridge, and Dungeness River, Olympic National Park
February 19-21, 2005
With a three day weekend thanks to people like George and Abe, Jonathan Ley and I decided to head up to the Olympics to look around for a bit. You can see his much better pictures on his page. Originally the plan was to head up to Shi Shi beach, on the Pacific for one day, and then climb up into the alpine in the Seven Lakes basin area near Sol Duc. Seemed like a simple enough plan. On Saturday we got an early start from Lakewood and made it to the Makah Nation Indian Reservation by 10:30 for a little late breakfast at a newly remodeled cafe called The Warm House. After a breakfast of biscuits and gravy with eggs and hashbrowns, we hit Cape Flattery, the western most point in the continental US. A short, half mile trail dropped down to fabulous ocean views.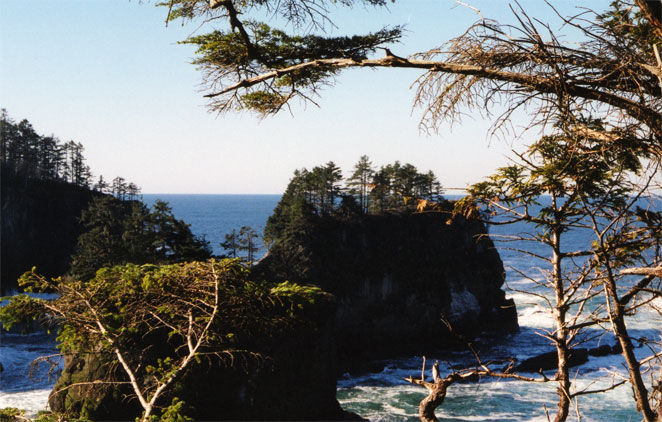 Jonathan runs Ley Photography and I took the opportunity to pester him with a variety of questions about light and cameras, such as, "How can I take a picture looking straight into the sun?"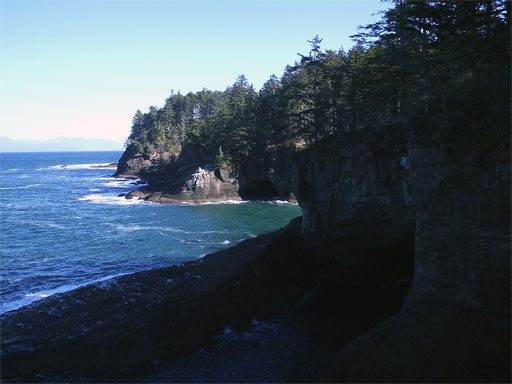 I found the area to be extremely serene, with the deep blue Pacific rolling in to smash into the rocks below the viewpoint and the rocky islands strewn throughout the area. At one point, I even forgot that I had a camera with me and just looked out at the sea. Somebody once said that the sea shall give us everlasting hope, and this seemed about right to me.




Sufficiently charged up for some beach walking, we drove down toward the Shi Shi Beach trailhead and parked at Donna's parking lot, which ran us $10 (no overnight parking at the trailhead). I couldn't believe how fine the weather was out here, as the last time I was on the Pacific coast there was two foot fog for three days and it was cold and damp and generally unpleasant unless you were drinking heavily. We got our gear together and set off down the road for the 3/4 mile walk to the trailhead. Along the way, a friendly female Newfoundland started to follow us, slobbering happily as she trotted beside us. We suspected that she might have done this before.




The trailhead itself was built and maintained by the Makah Nation and provides access to the beach via a two mile trail through coastal forest. The trail ends near the border with Olympic National Park, which administers the area along the coast south to the Ozette Indian Reservation.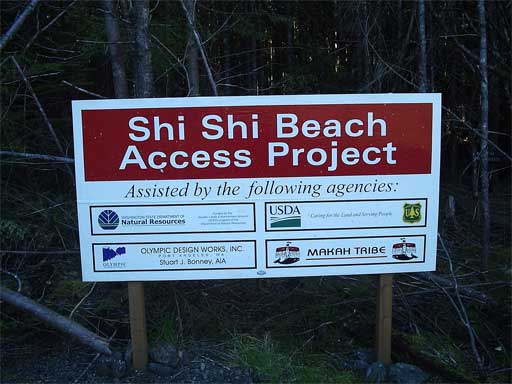 Jonathan told the Newfie that she would have to go back once we got to the park, but all he got in response was a bit more drool. Still, she didn't complain at all and seemed happy enough to tramp through the woods to the border with the park. She ignored the sign which prohibited pets, which seemed fair enough as she wasn't our pet, and we were ignoring the sign about bringing a hard sided food storage container with us. And the backcountry camping fees. And other signs which we might have read had we cared to.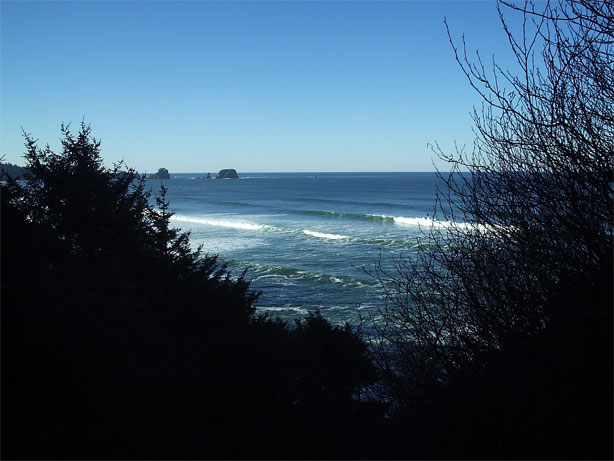 The trail dropped us steeply down a hundred feet or so to the beach, which was a joy to reach. Waves were crashing and the sun was shining and the place wasn't mobbed with tourists; just a couple of kids chucking rocks. We explored around some tidal pools, with Jonathan pointing out some of the local inhabitants, and then started to make our way over to a prominent rock formation. I was too chicken to go much further, but Jonathan scampered about on the rocks without any problems. Our companion declined to go with Jonathan and then promptly started to whimper a bit when he disappeared from sight.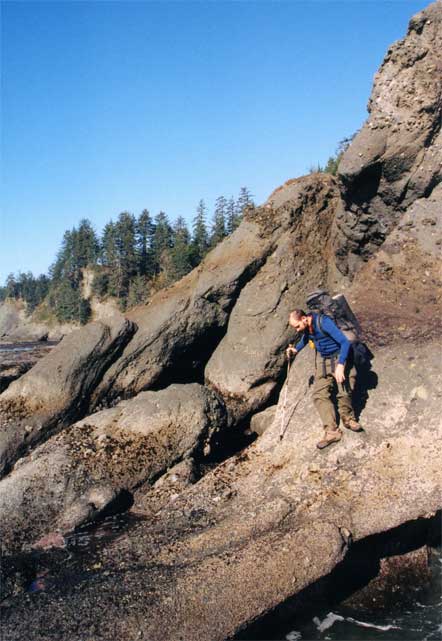 I probably should have explored more, but I was just happy to sit in the salt air and look at the things I could see while comfortably resting on my backside. The Newfie curled up next to me, creating long trails of slime on my black pants and occasionally demanding a scratch or two. Jonathan was gone for twenty minutes and then came back by a different route, greatly surprising the dog and bringing forth one of her few vocal displays as she ran to greet him.




We started south down the beach and remarked, after a bit, that it was a good thing that the tide was out, as it seemed to run all the way up the beach and almost to the tree line.




We were heading for a place called Point of the Arches, which is, not surpisingly, a spit of land (or cluster of mini islands depending on the time of day), which have some natural arches. Although stunning themselves, the main attraction was the entire place, rather than some part of it. Small treasures could be found here or there, with plenty of marine life exposed by the low time. We passed a few people and had to assure them that the Newfie didn't belong to us, but had rather followed us down from the road. Pets are not legal in the park, but this didn't bother me too much. Rather, I didn't like the fact that the pooch was not on a leash and could thus freely irritate people at her will. Although she was very well behaved, not everyone liked the sight of a hundred twenty pound dog running straight toward them.




We got to the point after crossing several small streams that ran out of the woods and on to the beach. Assured of a good place to camp, we decided to spend a few hours poking around the point and all they had to show. Even with the low tide, we still had to hop about on the very sharp rocks to make any progress at all. Surprisingly, our Newfie didn't complain at all despite not having the advanced thought to bring shoes.




Jonathan and the pooch set out to explore a more distant set of land that required some scrambling. I just wanted to sit and look at the ocean, so that is what I did. I made a 22 oz. mug of my favorite winter brew (coffee with hot chocolate, brown sugar, and whiskey) and waited for the show to begin. It was still more than an hour till sunset, but the clear weather and the setting guaranteed something spectacular.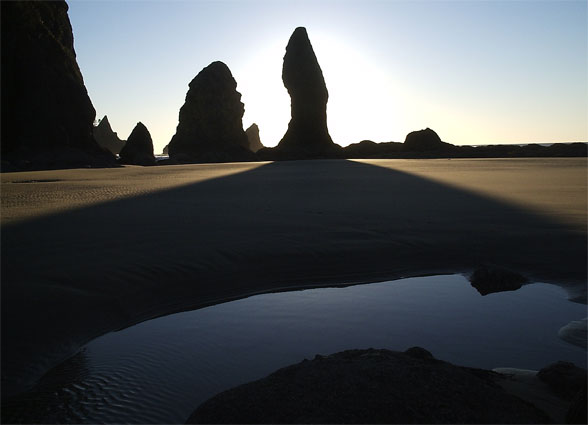 With my mug in my hand, I explored around some of the pools, occasionally getting glimpses of Jonathan and the Newfie on a rock somewhere. The pools were fun to look through, as bits of marine life were stranded there from the high tide. You just didn't know what you'd find until you looked.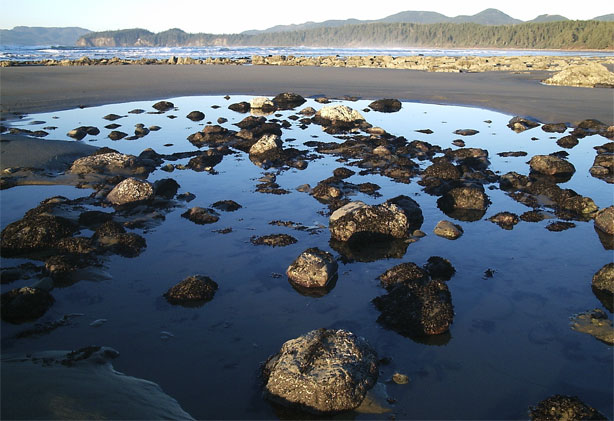 As the sun dropped closer to the horizon, shadows began to come out and give the land a different texture. Ordinarily sand looks smooth. With a sun low on the horizon, it is not smooth. Perception, it seems, is not reality. I thought it rather funny to demonstrate a metaphysical principle by walking around on a beach at the right time of day.




It was all fun and games until I found that someone had vandalized the beach by scrawling some graffiti on the otherwise pristine surface on the sand. Perhaps Suge Knight had come by here, but I couldn't figure out what a rap business mogul would be doing on the Pacific far from a resort or what ordinarily passes for civilization. But, the graffiti was impermanent, as in a few hours, I surmised, the graffiti would be gone when the tide came in. Impermanence. Another demonstration of metaphysics seen by taking a walk on the beach.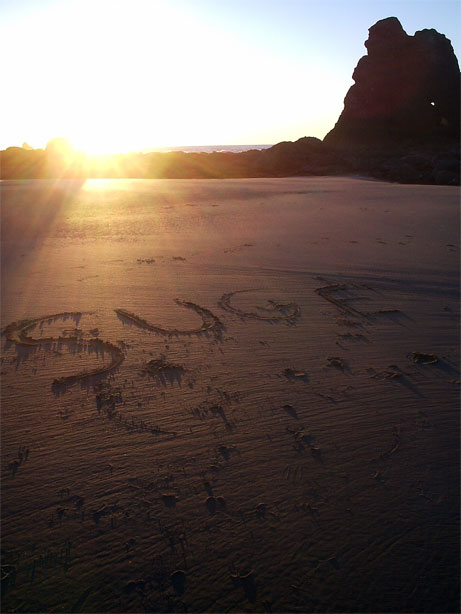 As the sun set and the land went purple, we decided that it might be time to find a place to camp for the night. The tide line seemed to include all the beach, so we returned to the nearest stream that we had crossed and found a small clearing in the woods just beyond the tide line.




Jonathan lingered on the sand, taking pictures in the low light, while I sat on a log near our site and wrote for a while. We were to have company tonight, as the Newfie had refused to leave us and seemed to want to act as a guard dog for our temporary home (i.e, the ground, as we didn't bother to put up a tarp). We ate and talked for a while, but mostly we drank down my bottle of whiskey and some of Jonathan's rum. Jonathan has done a lot of hiking and it was nice to talk with someone for whom the question of Why had an answer. Or, rather, a person who knew that the answer to the question isn't of any especial importance. The answer can't be given in words to someone who does not already know the answer. How can you explain Beethoven's Ninth to someone who is deaf?


---
The Newfie, who was now known variously as Dog, Poochie, or Moochie, was quiet for most of the night, but ravenously hungry in the morning. I gave her a couple of packets of crackers and some granola bars that I had, but she clearly wanted more than I could give her. We packed up our stuff and started out along the shore of the Pacific in the early morning light that is peculiar to the ocean. The desert has its own light in the morning, as do the mountains and the forest. But sweetest, and most distinctive, of all is that found on the beach in the morning before the sun has come up. There is something about the pale, misty quality that makes life seem so fresh and new. In those other places, the light heralds the start of another day. On the ocean shore, the morning light signals a new day.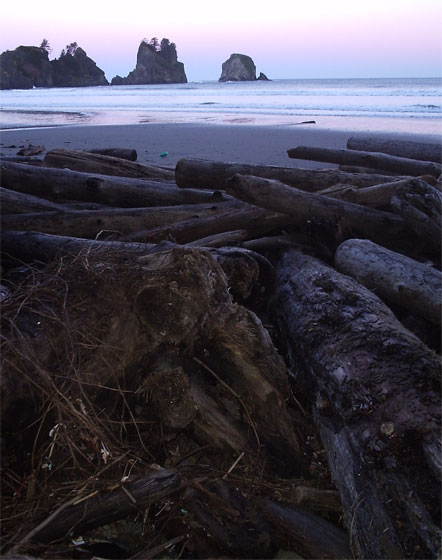 Jonathan and I took our time to admire small things along the way and took frequent breaks along the way. I didn't mind. I wasn't in a hurry, as the place was just too good to give up quickly, and we only had a short distance to go before we were forced by topography to walk in the woods.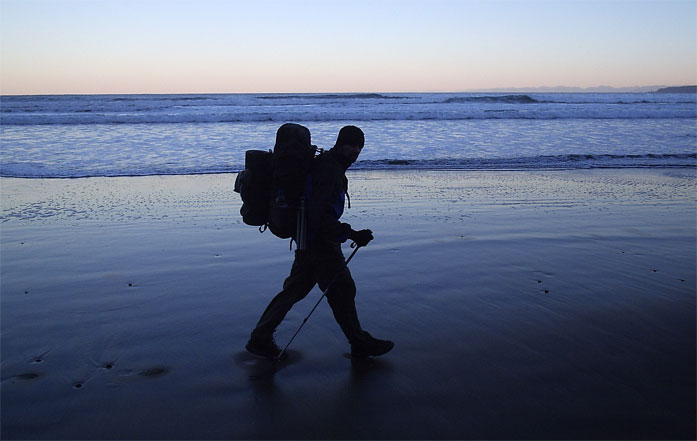 As Jonathan stopped to examine something in the sand, I played fetch with the Newfie in the surf, trying to stay as dry as possible yet also get her wet at the same time. She wasn't terribly hard to outwit but I think she eventually caught on as she bit the drift wood stick that I was using in half.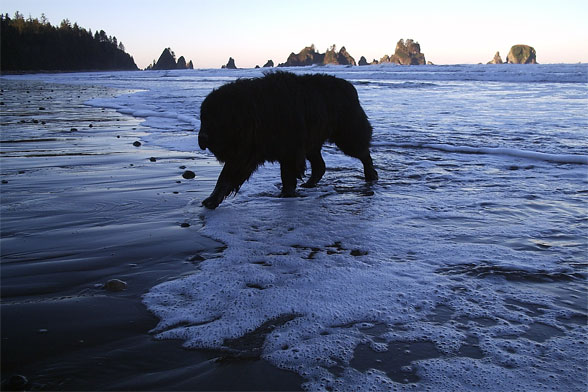 Just before leaving the beach for the woods, we took a long break, which I used to sit on a large driftlog and to contemplate non-attachment, which is easier to say than to do. It wasn't that I tried to clear my mind and force things out of it. Rather, I tried to make my mind as slippery as possible, so that nothing would attach to it. Songs would come, and I would try not to hold onto them. I'd see a funny wave, and try to let its sensation pass. I though about how pleasant than wind was, and tried to let it die out on its own accord. I could only do it for a few seconds at a time and for never more than fifteen seconds at a time. I can never do this for long, although I only seem to try to do it when I am in very stimulating situations. In a quiet temple, seated in a proper position, I might be more successful. But I prefer the ocean to a temple.

We climbed up and off of the beach and made the two mile walk to the trail head, where I left Jonathan and strolled to the car. Moochie followed me, and when we got to the house where we found her I tried to shoo her off. Completely unsuccessfully. She followed me into the parking lot (really someone's lawn) and seemed to be at home her. I hopped into Jonathan's are and roared out, watching Moochie chasing furiously behind for a while. I picked up Jonathan and drove out to the Warm House for a big breakfast before setting off for Sol Duc and the mountain half of the trip. Most unfortunately, the access road to Sol Duc was rather shut. Being the resourceful people that we are, we headed up to Hurricane Ridge to check out the mountains from a tourist's perspective.






There was less snow on the ridge than during Thanksgiving, although Jonathan and I did manage to find some by walking up one of the hills in the area to get a view of the surrounding areas. Victoria and Port Angeles were clearly visible, as were a slew of the major peaks in the area (Glacier, Baker), and even some in Canada, including (probably) Garibaldi.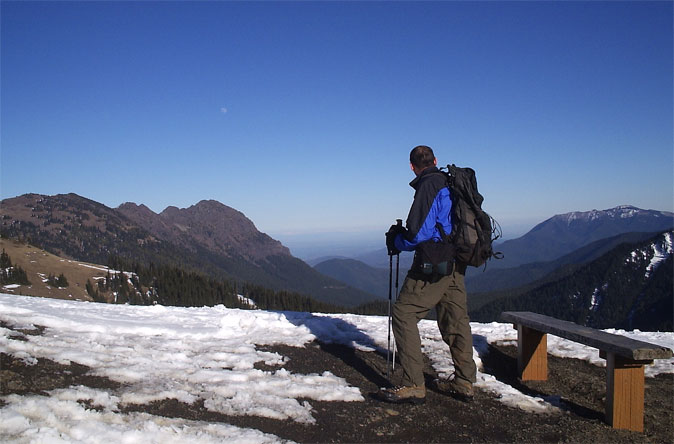 Without a lot of day light left, we headed back into Port Angeles for some Indian food, which was tasty, but not terribly Indian. The lamb vindaloo I had was quite nice, but the sauce was more like an Italian tomato sauce with some cumin and cayenne added to it. Good, but not vindaloo. We took up space in the restaurant for an hour or so, picked up some beer from a Safeway on the outskirts of town, and then set out in search of a free campsite. What could be more free than a closed National Forest campground? We drove to Dungeness Forks campground and parked in front of the "Closed" gate, next to which we found some open ground to sleep on and declined to put up a tarp once again. Jonathan went to bed early, but I had beer to drink and Wilfred Thesiger to keep me company, in addition to the quiet forest and the mutter of the Dungeness river flowing close by.

---
Both of us were up, but still in our bags, when a pick up truck came rumbling down the forest road heading for one of the trailheads in the area. Good time to get up and go for a hike. We were only a few miles from a trail head and so we made the drive up to a frozen parking lot for a short walk along the Dungeness river.




There was no snow visible, but plenty of ice in places. This didn't bode well for the summer. Forest fires were becoming more and more of a serious threat as winter rolled on and no snow fell. At some point we entered the Buckhorn Wilderness, but the designation was more of a political one than an actual boundary: From the trailhead, the trail was plenty wild.




Jonathan stopped to take some pictures and I wandered a bit further up the river to think for a while. The forest was much different than the ocean, although I did manage to find a nice bit of riverdrift to sit on for awhile and watch the river, frozen in places, flow down from the mountains above.




The water looked so nice that I had to drink some down before being forced to return to the chlorine that passed for water in Lakewood. There are few pleasures as basic or satisfying as drinking water directly from a cold mountain stream, untreated except for the flavors that the environment might give it. Eventually Jonathan returned from his picture excursion and we set off back over our tracks for the drive back to Lakewood. It was a little sad to leave the forest, but spring was a little closer than before, and once spring got here summer was sure to follow.


---
Logistics

To get to the Makah Nation from Lakewood, drive I-5 north to the Tacoma Narrows bridge (SR 16) and follow the highway over the water and through Gig Harbor and Bremerton, where it changes to HWY 3. Just follow the signs for Hood Canal Bridge. Once you cross Hood Canal, stay on target until you hit US 101. Take 101 through Port Angeles and keep going west until you junction with SR 113. Take this north until you junction with SR 112, which you'll take west through the town of Clallam Bay. Keep going into Neah Bay, which is where you'll find the Warm House. Once inside town, stay on the main road and follow the signs for Cape Flattery. There is a developed parking lot with bathrooms where you should stop and walk down to the overlook of the Cape. You'll need to buy a $7 recreation permit for the Makah Nation, which can be purchased at the Warm House.

To get to the Shi Shi beach trail head, drive through Neah Bay and make a left on Hobuck road, following the hatcheries signs. When you start getting near, you'll find a variety of places where you can pay $10 to park overnight. We parked at Donna's, which is the furthest from the trail head, but is very nice and the Newfie seems to live there. If you just want to day hike, keep on the road and follow the signs for Beach Access. The trailhead is clearly marked and is 0.8 miles from Donna's.

To get to Hurricane Ridge, follow the signs in Port Angeles. You'll have to pay a $10 entrance fee or have, in your possession, a national parks pass or Golden Eagle passport. The Hurricane Ridge road closes around dusk.

To get to Dungeness Forks, drive to near Sequim Bay State Park and turn off onto Louella road (about 0.1 miles south of the state park). Drive about a mile up hill until you T into Palo Alot road. Make a left and follow this paved road past trophy homes for about 7 miles. After a big bend around a working ranch, you'll find a fork (marked) in the road. Make a right, folllowing the sign for Dungeness trail. The narrow, unpaved road drops you down for a mile to the Dungeness Forks campground. If you keep going on the road (which is now 2880), you'll make it to the trail head for Royal Basin in about 10 miles.
---