Suntop, Mount Baker - Snoqualmie National Forest
January 28, 2006
After grabbing Al and Zap from Puyallup, we drove through steadily worsening rain to the hamlet of Greenwater, just outside the north boundary of Mount Rainier National Park. The trailhead leading to the Suntop view point was just high enough for the rain to be partly snow, which was a good sign for the future comfort of us both. A large party was also gearing up and we headed up the slushy road together. As Al had Zap to hang out with, and since we were used to hiking at different paces, I gave Al the keys to my car and we quickly separated as the road started gaining elevation.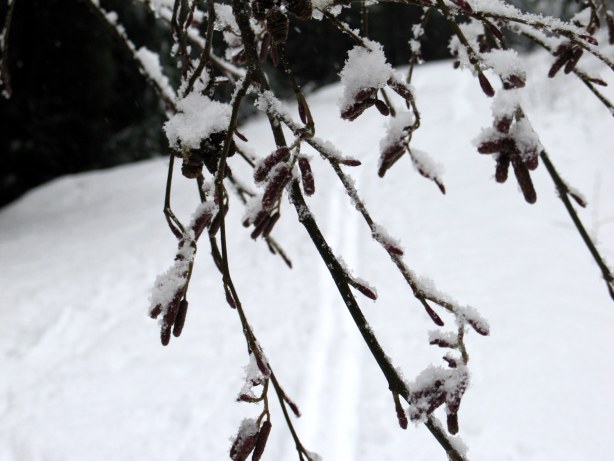 As with Mount Margaret the previous weekend, I would never hike this trail (actually an old road) during the summer time. Just not much to it. But the snow, both on the ground and falling on my head, transformed the place into something else. The place was still the place, but the conditions were different. The thing was the thing but not the thing. Or some such nonsense. After a mile and a half there was enough snow to make the snowshoes, which had been riding on my pack, useful. It was also a good time for a mini break under some trees where I could shelter myself from the falling snow.




As I climbed higher, the tracks I had been following began to thin and the snow began to fall much more rapidly. Just past the two mile mark, I encountered a party that had just turned around and, just past them, another party that was in the process of turning around. With no more tracks to follow, the path was nothing but fluffy powder, which sounds pleasant until you try to walk through it. Being stubborn, I decided to keep going, breaking trail as I went. The snow fell harder and harder, visibility dropped and dropped, and I sweated and sweated as if it was July and I was in the Grand Canyon.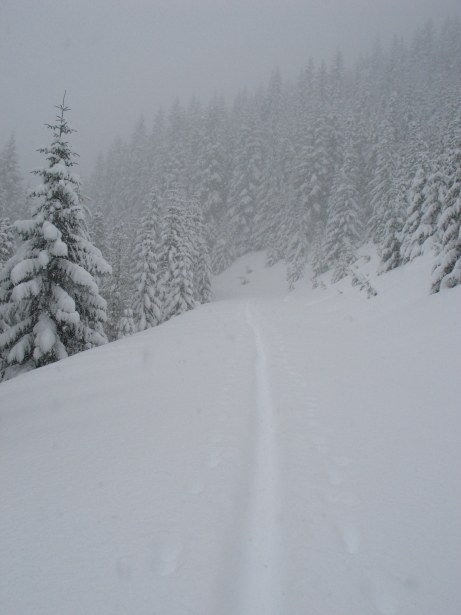 One pm rolled by and I decided to turn back, though I was within a half mile of the summit. I had gained most of the elevation, which meant my exercise was nearly over. There would be nothing to see at the lookout because of the weather. And I didn't want Al sitting around forever, even if he had access to my car. I tried to shelter under some trees for a rest, but the snow was falling hard enough that I my wide-brimmed hat was quickly filled with snow. I stopped long enough to munch down some food and contemplate the following snow, but only in a superficial sort of way that I didn't especially like. I was cold and needed to either put more clothes on or get moving to get my body warm again.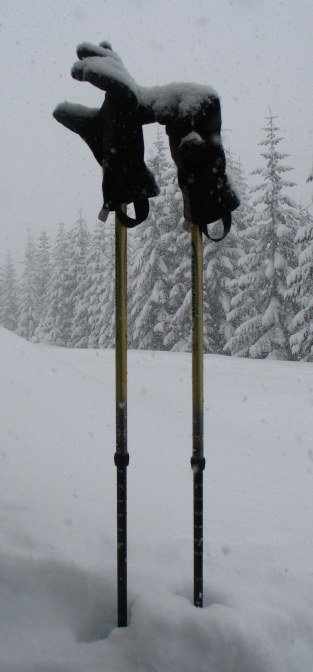 Thumping down my tracks was much easier than struggling up through the powder and I made excellent time on the return trip. Two miles out from the trailhead I began encountering a few groups, either returning from their snowshoe or heading up. Everyone was happy and smiling, polite and friendly, just the way that things ought to be. The lower elevation brought warmer temperatures and less snow and helped create the conditions conducive to a proper break. Sitting under a fir tree, I contemplated not the snow, but rather the people I had met over the last few weeks on my various excursions. Why couldn't people be like that back in settled, civil society? But more importantly, why couldn't I be like that?


---
Logistics

From Lakewood, drive I-5 north to SR 512 and follow that road east toward Puyallup. Take SR410 west through the towns of Sumner, Buckley, and Enumclaw to the hamlet of Greenwater. About 5 minutes past Greenwater turn off to the right on Forest Service Road 73 (it is beyond both FS 74 and FS72). Drive about 1.5 miles up the road to the gated trailhead. You'll need a Sno Park pass to park there.

The trail is just an old road, so it is super easy to follow in the snow. It is 5 miles to the top and about 3000 vertical feet, so it is a bit of a grunt in snowshoes.
---