Frenchman Coulee
September 29, 2007
When Mindy and I came over Snoqualmie Pass, it was storming like something out of Siegfried. The sky turned from clear blue to grey along SR18 and by the time we hit Tiger Summit, it was full on black, with pounding rain, blasting wind, and even lightning, a rarity in Washington. We agreed that it was better to be heading east instead of into the mountains, where any attempt to climb would have been an exercise in suffering. But as we rolled past Cle Elum, the skies turned back to blue and the air was warm once more. The further east we drove, the nicer it looked. We were heading for Frenchmens Coulee, the sanctuary for Washington climbers.

The morning dawned clear and warm and brought the promise of a fun day of cragging, something that I hadn't enjoyed since April, since the start of the alpine season in Washington. The season was over now, and I was back at the crag. Sport climbing doesn't really inspire much in the way of deep thought, though its combination of mental and physical problem solving makes it enjoyable on several levels. No philosophizing here.

Here Mindy is near the end of a fun 5.7 at the Feathers, complete with a little overhang at the top. She is just about past it and on the left of the photo you can see another climber on an easy 5.6. We would later get to that one also. We were out with the Tacoma Mountaineers Sport Climbing class and spent a good three hours at the Feathers playing around on the plethora of easy and moderate routes there. By noon the area was crowded and it was time for us to move on.




We stopped off at Zig Zag Wall, a little used area on the way to Sunshine, to enjoy the longer routes it holds. Bill jumped on a long 5.7 arete route that looked like quite a bit of fun. One of the fun things about climbing is the sense of exposure you get: The world drops off all around you. You can see Bill on the left on the rock.




This is especially true on lead, when you might be quite a ways above your last bolt.




Unfortunately when you start out climbing it is hard to enjoy the exposure: You're thinking about falling too much and don't bother to look around. Once you start to get more comfortable, you start to see new things, to appreciate new things.




Ellie thought all this was rubbish and was more interested in my Green Chili Cheetos that in what you could see from a vertical wall of rock. She got none, as I especially like my Cheetos.




Gordon took the lead on a shorter 5.8 next to Bill's climb. Gordon's been climbing for some time now and has developed the kind of foot work and balance that I can only dream of.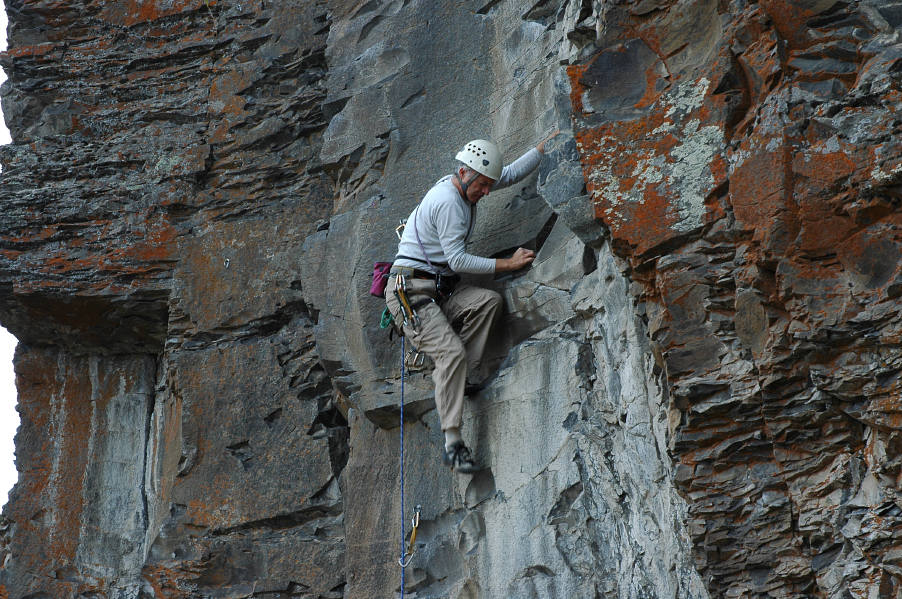 While most (male) craggers have a lot of strength in their forearms and shoulders, balance and footwork go a lot farther than being able to do thirty pullups.




Seriously! Look in the below picture showing Gordon just below the chains. What is his right foot on? You can see a little micro somethingorother for his left foot. But he's calm, collected, and coolascanbe: Put your foot on something, standup, balance it out.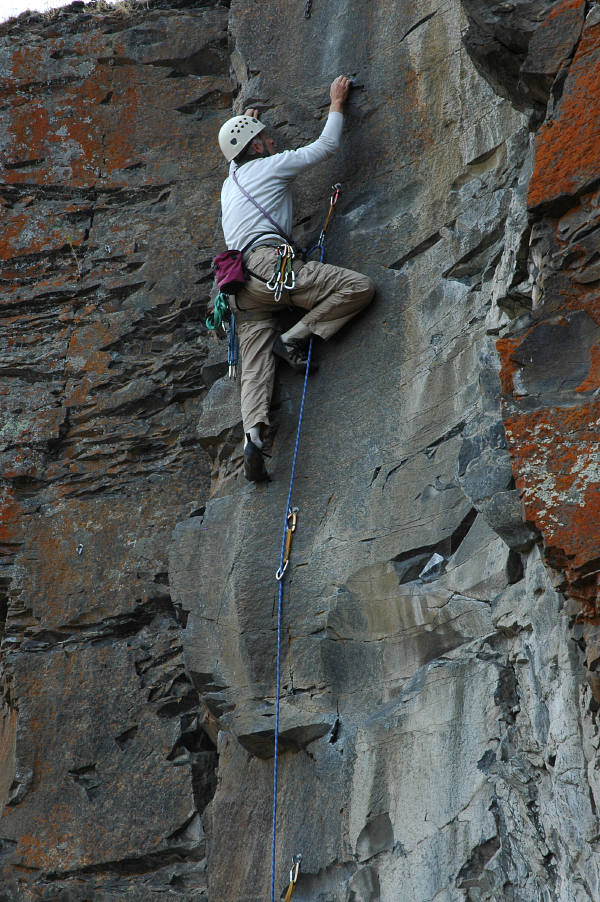 A bit further down Mindy put a rope up on Scissorman, an excellent 5.9 with some fun moves and delicate footwork. Here Greg is top roping it. The line goes up the crack in the middle of the lower rock, then moves out onto a face with some thought provoking moves.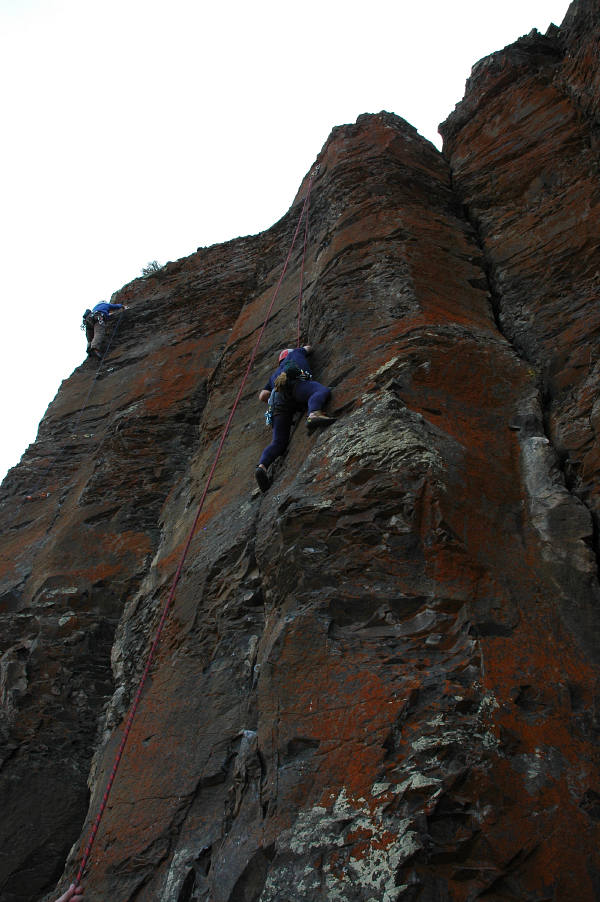 The holds are all good and there are a few buckets, but in general they are smaller than on easier rated climbs. You can still use them plenty well, but your ability to do a pull up is hampered. But, put your foot on something, stand up, and balance it out.




These two ladies weren't with us, nor did we climb the route they were on, but I like this photo and stuck it in here anyways.




After a couple of hours we migrated off to Riverview (Farside) for some end-of-day climbing. I probably should have shot some pictures, especially of the 5.10b that Mindy, Bill, and Gordon styled on, but I got caught up climbing and eating Cheetos.


---
Logistics

From Lakewood drive I-5 north to SR 18 and take that to its junction with I-90. Drive on I-90 to exit 143, a few miles past the Columbia. Exit and make a left onto Silica road. Drive about a mile to the first house and make a left (Vantage Road). Drive another mile until you reach a rough parking area with some outhouses on the left. You'll need an annual $12 state game and wildlife pass, available at local stores (Fred Meyer, GI Joes, etc). A pass issued by the feds (Northwest Forest, Golden Eagle, etc) is of no use here. There is no running water at Frenchmen Coulee. It gets pretty hot in the summer time, so be sure to drink plenty of water and cover up from the sun. It gets very windy, so stake out your tents.

The Feathers are the big, obvious walls above the camping area. To get to Zig-Zag Wall, leave the parking lot and make a left turn at the rock haystack (Agaltha Tower). The wall is on the right. To get to Riverview (Farside), continue past the haystack and follow a good trail up and onto a plateau. Continue along the trail, passing a variety of gullies until the trail drops down and then bends back to the left. You're now at Riverview. In Ellensburg, there is an excellent eats place called the Palace Cafe. The food is super tasty, reasonably priced, and comes in large portions. The biscuits and gravy, Denver Omelet, and the Palace burger are highly recommended. To get there, take the eastern most exit from I-90 (there are only two and this is the main one). Exit and head into town. Drive for about 4 minutes to reach downtown. The Palace Cafe is on the left side.
---