The Gear



You can generally recognize experienced long distance hikers from new ones by the amount of time they spend talking about gear: The more time, the less miles. The less time, the more miles. If that seems unfair, consider that it could just be because people with miles under their shoes have a gear system worked out, where as those new to the hobby are still learning what might work for them. This doesn't mean that gear lists are set in stone and that people don't try new things. Instead, what it means is that people who have hiked some miles realize that, once past a certain level, the gear you take doesn't really matter all that much. The list that follows is more or less what I carried the whole way.


The Big Three

ULA Circuit 32 oz
Trash compactor bag liner 0.75 oz.
Western Mountaineering Highlite (40 degree) sleeping bag 19.3 oz
Integral Designs silk liner 4.8 oz.
3/4 length Z-rest cut into 2 sections 11 oz
Gossamer Gear SpinnTwinn tarp 9.5 oz
8 stakes 5 oz
Tyvek ground cloth 5.5 oz.



Clothing (not worn)

MEC midweight thermal top 8.3 oz
Feathered Friends Hyperion down jacket 14 oz
Integral Designs eVENT jacket 8.7 oz
Generic shorts 3.1 oz
ULA Rainwrap 3 oz
REI liner gloves 1 oz
Wigwam warm hat 1.9 oz
2 pair Fox River Ultimax socks 3.8 oz
Clothing stuff sack 1 oz



Cooking and Hyrdration

Homemade alcohol stove 1 oz
Windscreen 1.7 oz
20 oz soda bottle for fuel 1.5 oz
16 oz soda bottle for olive oil 1.3 oz
1 Bic lighter 0.8 oz
1.3 L Evernew titanium pot 5.8 oz
SnoPeak titanium spork 0.6 oz
ULA Amigo water filter 7.5 oz
2.4 liter Platypus water bag 1.4 oz
Food stuff sack 1 oz



Health

Toilet paper and hand gel 4.5 oz
Medical Kit 5.8 oz
Sunblock and DEET 4.2 oz
Whistle 0.4 oz
Radio 3 oz
Book 8 oz



Other

Compass 1.2 oz
Photon microlight 0.5 oz
Documents 2 oz
Guidebook and maps 8 oz
Journal and pen 6 oz
Bear cord 2.8 oz
If you add all this up you'll get a base weight (everything except food and water and fuel) of a bit under 12 lbs. Not included in the gear weight are my camera set up and trekking poles. Below is a photo of this gear the morning I left for the Rockies.


Clothing Worn
Loki DUAL pant
MEC Prospector shirt
Underarmor compression shorts
Sunday Afternoons Adventure hat
Fox River Ultimax Socks
Asics Trail Attack running shoes
The clothing I wore sometimes varied, but not by a whole lot. I used a pair of New Balance 807 shoes for the first 500 miles or so to Oroville. Occasionally I wore shorts. The Loki pant is a basic stretchy black pant that is more or less equivalent to what others make, though I did like the little hooks at the cuff that would secure the pant leg to my shoe and act as a sort of gaiter. The MEC shirt is basic: White, long sleeved, sun blocking. I've had it since 2002 and it is still going strong. Ditto with the hat, though a rodent chewed some holes in it one night.

I began the trip with a prototype pack from ULA that I just loved and which weighed a pound less than the circuit. Except that I lost a hipbelt strap at the start of the tip and had to carry the pack as a rucksack. Then I broke both of the hipbelt buckles (the ones that attach to the pack body) in Eureka trying to make my own hipbelt. This wasn't due to a ULA defect, but rather, I believe, from a problem with the company that makes the buckles for ULA. Brian (ULA jefe) overnighted me a Circuit to Eureka and I carried it from there. The photo below shows the prototype loaded up with 5+ days of food. The pack is sweet and I really want to get my hands on another for my next long walk.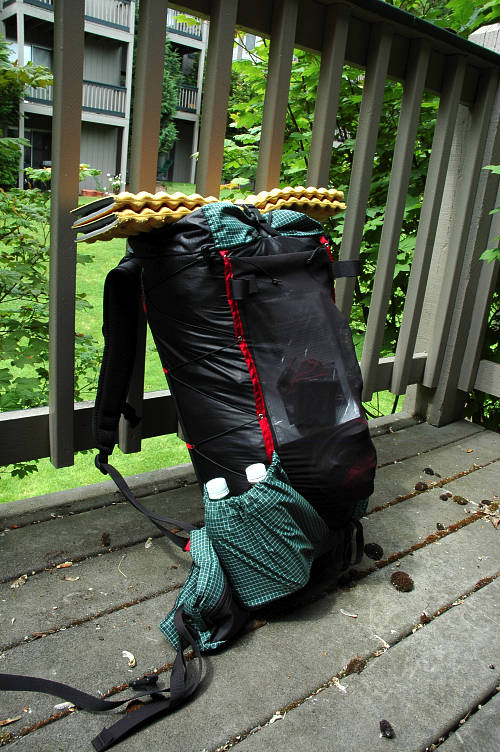 Selected Gear Reviews
Gear basically works or it doesn't, and gear reviews are close to worthless unless you personally know the tester and their background. A rookie using, say, a small 5 by 7 Cuben fiber tarp might not have a good experience, whereas Ryan Jordan might love it. Given this, I'll confine my remarks to a few pieces of gear that really stood out for me during my long walk. My CDT page has a few more short gear reviews of some of the same items I took with me this time around.


ULA Circuit Pack
There are extensive reviews of the ULA Circuit elsewhere, so I'll be brief here. It is a frame-less, 2 lb pack with a large, comfortable hipbelt and a hoop-type suspension. It is the larger brother of the prototype that I started with. The Circuit is a very well thought out pack and there is nothing on it I would change, except for perhaps slightly larger side pockets to better hold 2.5 liter water bags. I carried supplies for 230 miles across the Pasayten and North Cascades in the pack with little difficulty or discomfort. If you have your gear dialed in, it can serve as a pack for long resupply runs on the PNT, PCT, CDT, GDT, etc. If you are making the transition to ultralight hiking, it is a very good pack. I used part of a Z-rest as a frame sheet, but this mostly helped with comfort for my back. If you have an ultralight kit already and are planning on short resupply runs (for example, on the AT) of only a few days, the pack will be too big for you and you will want to get ahold of the prototype when it is released.


Gossamer Gear SpinnTwinn Tarp
This was my first time using a pure tarp as a shelter. It was grand. The SpinnTwinn is made out of a fabric used in sailing called Spinnaker. Although I had heard warnings about its durability, I had absolutely no problems with the material and my tarp looks almost new. The tarp is cut into a catenary shape of approximately 8 feet by 10 feet, with some tapering here and there. The bottom line is: It is spacious for 2, luxurious for 1, and weighs under 10 oz. It takes me about 4 minutes to get it rigged using trekking poles for support. The tarp has a few nice features, such as line locks at the stake out points. These allow you to adjust the tension on the guylines without restaking the tarp. I slept through several big storms and many small ones and managed to stay nice and dry. I would normally set up with the front of the tarp behind some obstruction so that the wind would get knocked down. Not having a bug net proved to be no big deal: It got cold enough at night for the bugs to go away. The only real downside that I found to the tarp was its footprint: It needs a substantial amount of space to pitch. This was only an issue on a few nights and is the price to be paid for so much room underneath.


MEC Midweight thermal top
Ok, so this isn't so much a review of specific piece of gear as it is for a general class of gear. I only wore the top a few times, but when I did it saved my bacon. It is a basic, black turtleneck made out of synthetic fiber and costs about $25 at MEC. You can spend $80 on Patagonia stuff to get the same thing if you really want to. The top insulates when wet and adds an incredible amount of warmth, especially if you put in under a windproof shell. If you wear it exposed to the wind, you'll lose a lot of the warmth. My primary insulation was Feathered Friends down jacket, which meant that I never hiked in that piece. As such, the MEC top saw duty as a hiking layer on cold, wet days. Again, it stayed in the pack most of the trip. But the few times I needed it, it kept me from hypothermia and a potentially very bad end to the trip.
ULA Amigo Water Filter
This was the first time I'd taken a water filter with me on a long trip. Normally I drink straight from the water source and very rarely will add iodine to questionable water. The idea is that it is better to get water only from good sources instead of relying on a filter to save you from bad judgement. However, on the PNT I thought, quite correctly, that I would frequently be getting water from sources polluted by cows and occasionally humans. Moreover, on the Olympic coast the water contains large amounts of tannins from the leaves of the trees and filtering helps remove some of the twang from that. Rather than get a traditional filter, which requires you to actually pump the water through, I picked up a gravity filter from ULA.

The Amigo consists of three basic pieces. First, a fill bag where you dump the water in. This bag holds, I think, about a gallon and a half. At the bottom of the bag is a Katadyn water filter cartridge, just like in normal pump filters. The third piece is a hose running down from the filter. There is a small plastic thingamabob on the hose that allows you to pinch off the flow of water. You pour water into the bag and gravity draws the water through the filter, into the hose, and then into your water bag (or bottle), waiting at the bottom. The system works very well and I could fill up my 2.5 liter water bag in about 5 minutes.

There was another benefit to the system, however. When I would get to camp, if the water source was more than a 20 second walk, I would fill the entire water bag and hang it on a tree near by. I could filter water for cooking and the evening, and then in the morning I would not have to return to the water source for more: The Amigo's bag held what I needed. Although this doesn't sound like a lot, sometimes the water source for one of my camps was a 3 or 4 minute walk, or a scramble down through brush. Having the Amigo was very nice. It weighs 7.5 oz and will definitely come along on more of my trips when I pass through cattle country.