Where is the Scud Glacier?
The Scud glacier is located in northwestern British Columbia, Canada. Its outflow pours into the Stikine River, which flows south to the Pacific at Wrangell, Alaska. The Scud glacier is part of the Coast Mountain range that stretches from Vancouver in the south into Alaska, running along the Pacific Coast. The area is extremely remote, yet we walked past one of the largest mining developments in the world at Galore Creek. Almost every mountain is unclimbed and the opportunity for exploration and first ascents is nearly limitless.

Below you can see the general position of the Scud.




In a larger picture you can see the long Inside Passage along with Yehiniko Lake, the lake that where we began our trip.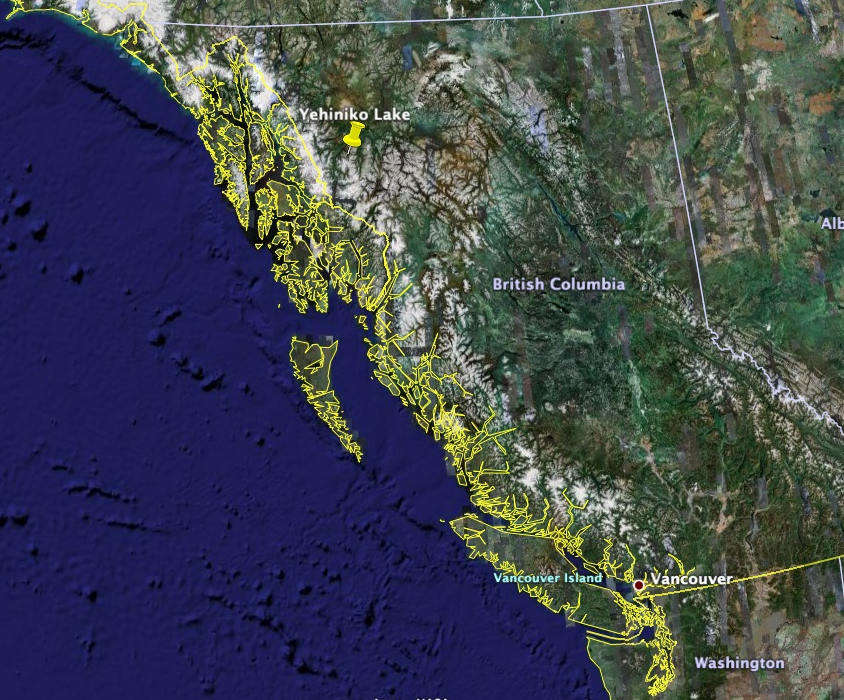 In the below picture you can get a better idea of how close to the coast and Alaska we actually were. The yellow line marks the international boundary.




In the below photo, you can see our approximate route, beginning at Yehiniko in the north and eventually reaching the Stikine River in the southwest.




The photo is the same, but here I have added some thumbtacks to indicate where we camped and climbed. These are only approximate locations and all the tacks can be a little difficult to distinguish. My apologies. Moreover, the names of the camps are my own an reflect my own feelings. The Count is the minor bump that Mike and Bob climbed, yet they declined to name it. So, I named it for them.


---