Mount St. Helens, Mount St. Helens National Volcanic Monument
February 10-11, 2007
I hadn't gotten much sleep the during the week, so I thought it would be a grand idea to sleep for 14 hours on Saturday night. I knew that if I was at home my comfy bed would leave me well rested and sleepless after only 10 hours, and the distractions of things like showers and hot coffee and cold beer would additionally conspire to keep me from my goal. Being clever, I enlisted the aid of several friends for an attempted climb of Mount Saint Helens, something I've wanted to do since I moved out here but haven't had the opportunity yet due to the recent seismic activity.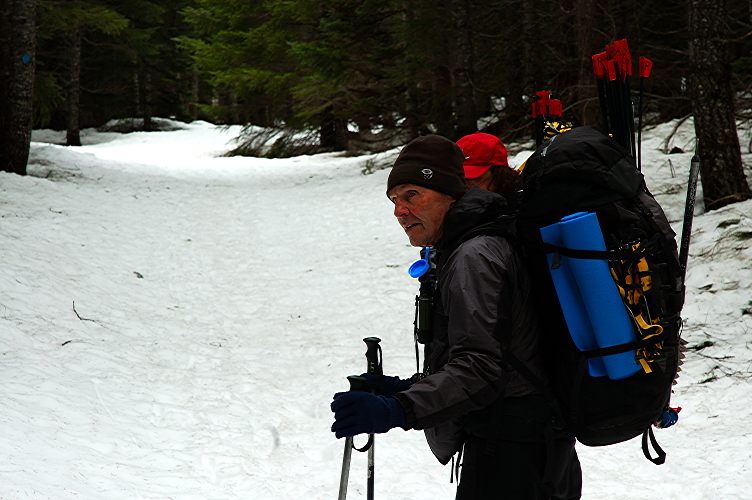 Now, on the face of it trying to climb Mount St. Helens doesn't sound like a reasonable way to get 14 hours of forced sleep, but this is Washington and this is February. Although at this time last year Jonathan Ley and I had excellent weather for a ramble on the north side of the monument, the forecast was not so good for this weekend.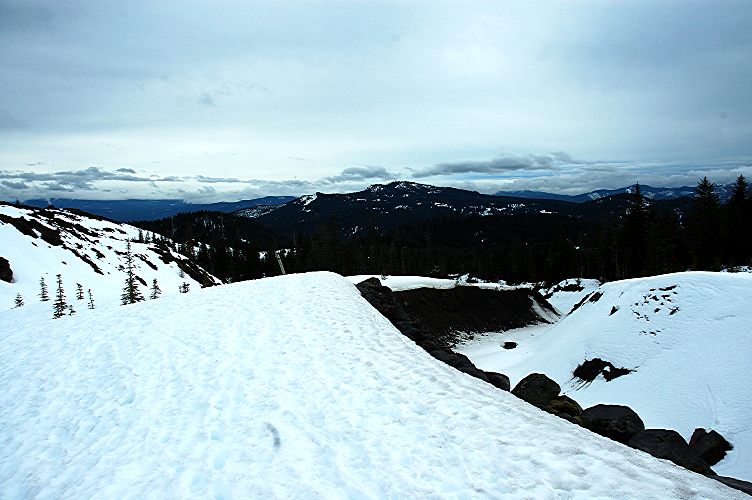 If I had made things easy on myself and brought only a light pack, the weather would have been excellent and the summit would have taunted me. Therefore, I very wisely brought along my ice axe, crampons, and other bits of gear that I would need if I made a run at the summit. There was a slight break in the clouds as we neared 4300 feet, but a cold, biting wind quickly picked up and the mountain was obscured in clouds. Everything was going according to plan, and at 4 pm, in the midst of melting snow and cooking dinner, the weather cooperated perfectly and a drizzle began.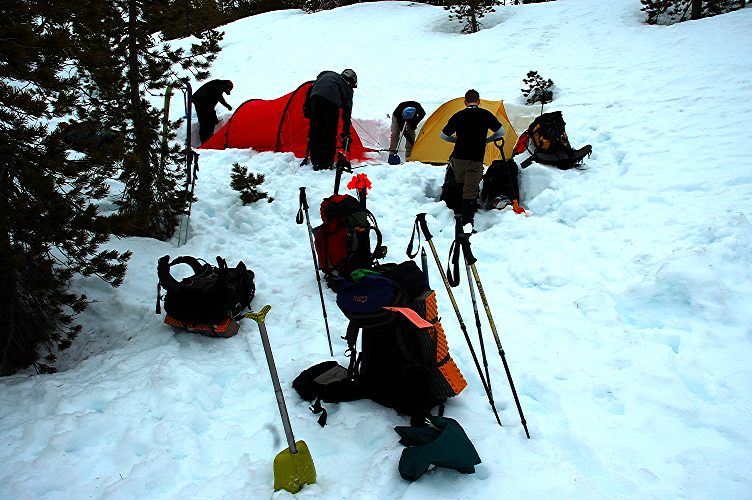 The drizzle turned into wet snow and by 5:30 I was quite soaked and retired to the tent for the evening. By 6 pm I was asleep in my warm bag. My plan for 14 hours of sleep was almost perfectly executed, though I awoke at 7:30 am, missing my target by 30 minutes. It was still wet-snowing and my rain gear was all wet, but I had had plenty of rest and was eventually able to coax myself out of bed and into the wet stuff. Camp struck, down the hill we went. For once the Washington weather cooperated with my plans and everything went just peachily!


---
Logistics

Drive I-5 south to the town of Woodland (mile 21), where you'll pick up SR 503. Drive this for about 25 miles or so until just before the town of Cougar. Here, you'll need to pick up a climbing permit at Jack's Restaurant. In the winter time, this is free and you do the registration yourself. There are big signs, so you can't miss it. Continue on SR 503 through Cougar and into the Monument. Follow the signs to the Marble Mountain Sno Park (you'll need a Sno Park pass). From the parking lot for big trailers, pick up the huge, obvious trail. Follow it and all signs for the Worm Flows climbing route. There is another summer route lurking about. We camped just past Chocolate Falls at about 4300 feet, which is about tree line.
---