Paradise, Mount Rainier National Park
June 10 - 11, 2006
There is a time to play and a time to practice, and there is a time for both. Rather than rather than trying to connect this weekend's fun into a readable narrative, I'll simply present some photos, for I was training rather than climbing or moving, and there isn't a whole lot of interest in the metaphysics of tying a prussik knot. I was up at Paradise for two days of practicing crevasse rescue skills and hard snow techniques. A crevasse is a crack in a glacier that people sometimes fall into. Crevasse rescue is how to get them out. Although it looked disgusting down in the Sound area, at Paradise it was blue skies, with the stunning Tatoosh Range in full view. The photo below is taken from the parking lot, so you don't have to walk very far to get stunning vistas.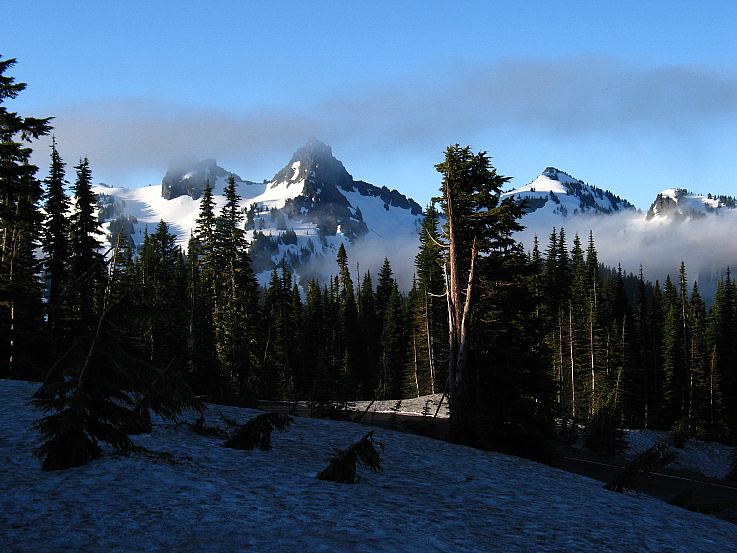 Even at 6:30 am, the parking lot at the Henry M. Jackson visitors center was packed, though many of the vehicles were there for the two day practice.




After splitting into two groups, thirty students and a dozen or so instructors set up Deadhorse Basin, heading higher onto the slopes of Rainier, moving in the general direction of Camp Muir, though before the big climb.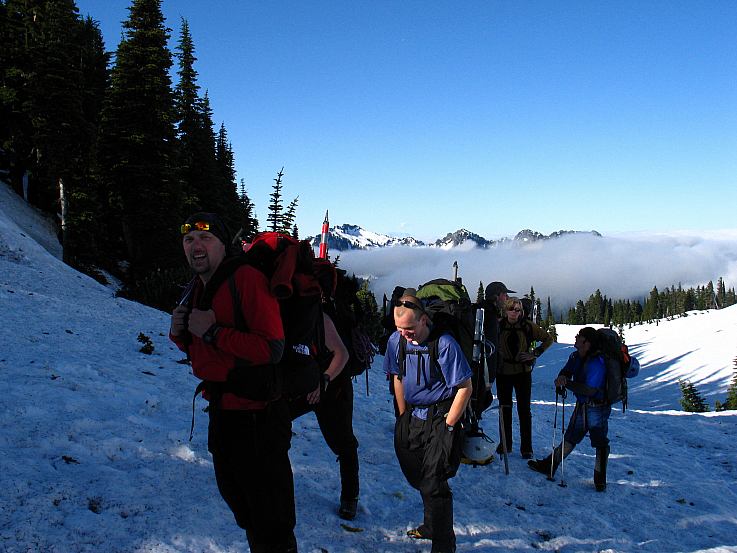 After gaining some elevation, we could spot the might Mount Adams in the distance behind the Tatoosh. St. Helens was also quite visible, though not in this photo,




Here is a shot of some people on their way to Camp Muir, the central basecamp for people trying to climb Mount Rainier on the Disappointment Cleaver route (the most popular). The camp is located in the flat area at the base of the largest cliffs in the below photo.




Even at 9 am in the morning, the area around Camp Muir was already beginning to gather the clouds in. After a few hours (see later pictures), the environment at Camp Muir would be very unpleasant indeed.




After getting a few practice runs in on gentle slopes, several of us headed over to a longer, steeper slope to practice ice axe arrest. This is the technique you use when you are sliding down a snow slope and need to stop yourself. With a pack on, we slide on our backs, head uphill. Then, on our stomachs, head downhill. Then, on our backs, head downhill. This is less fun than it sounds. One of our party slide all the way down the hill on several occasions, getting close to the little pond below.




Four of us were fortunate enough to then race over and try our hands at crevasse rescue. Because of the high snow pack at Paradise, most accessible crevasses were covered in snow. Hence, we pretended a snow cliff was a crevasse.




The technique isn't super difficult, but it is long and has a lot of parts to it. Three people on a rope. The first person breaks through snow and falls into a hidden crevasse. The other two members of the rope team hit the snow and stop the fall. The middle person stays in the snow while the person at the back comes to the middle climber, checking for more crevasses. The person then builds two snow anchors, checks on the climber in the crevasse, and sets up a Z-pulley system. The stranded climber then gets hauled out, which is fairly easy to do as the pulley system gives the puller a 3 to 1 mechanical advantage. In the below picture, various instructors are examining one of the snow anchors that a student built.




Each member of our group took about 45 minutes from fall to completed rescue. With time for changing roles and gawking, we were at it for about 4 hours, giving me a lot of time to take photos. In the below picture, you can see climbers on their way up to Camp Muir, just before the dreaded "March of Death".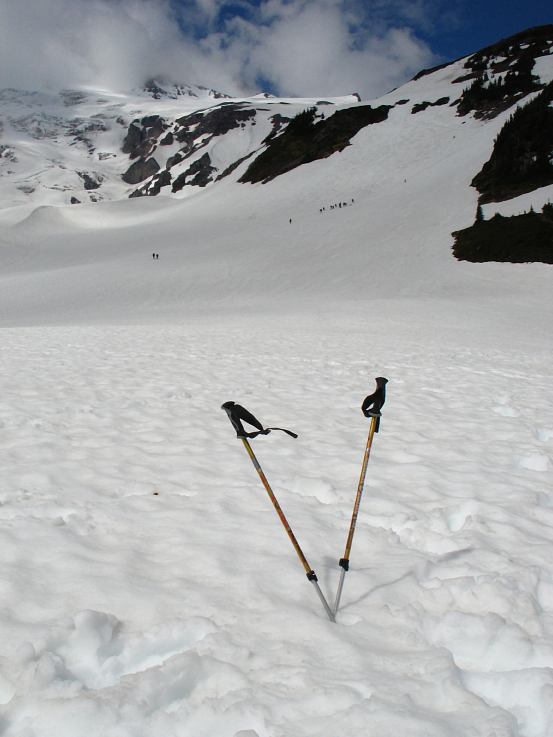 I led off the crevasse rescue, finishing just before a whiteout settled down upon us. This made the entire land very atmospheric and spooky. It is hard to believe, but Paradise was even prettier with the cloud cover shifting in and out than when the skies were completely blue.




Joel kept his game face on the entire time as he was the safety officer for the practice. I kept watch for a smile to break, but never saw one. I suspect he stole a grin or two while people were not looking, for it impossible to be in such a beautiful place without smiling.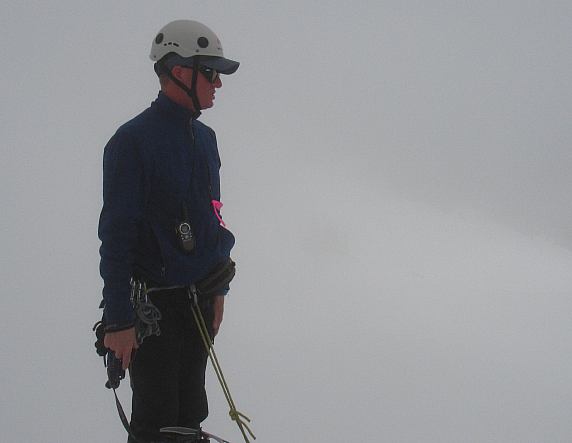 When everyone was finished and the ropes coiled, we set off back to the parking lot for a big potluck chili dinner and too much beer drinking. I stayed up until nearly midnight, long after everyone else had gone to bed, drinking beer and whiskey with an ex Army Ranger and an ex British Paratrooper (the guilty know who they are), a fact that I regretted when 5 am rolled around and I had to get up. Only slightly hung-over, but very tired, I joined a rope team to practice various glacier travel techniques. In the below picture, you can see me completely tied in, along with a mandatory candy bar for power.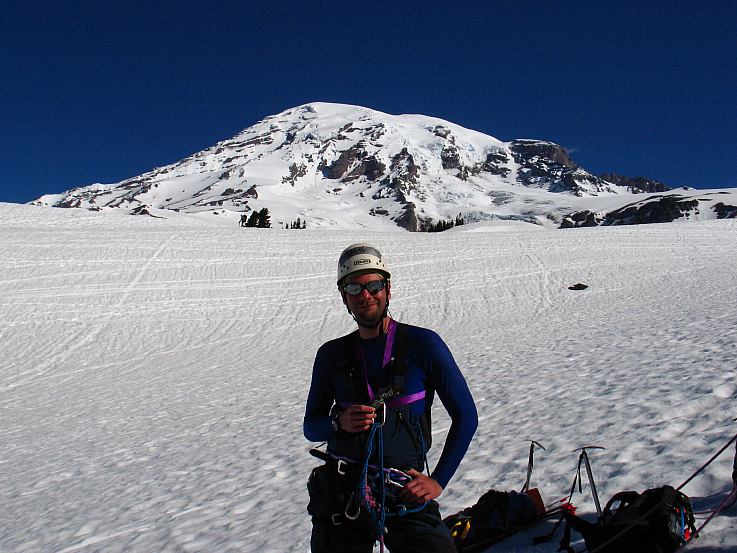 Julie marched us around on the rope, helping us with turning and traversing, cramponing and belaying. Julie was all smiles and a wealth of knowledge. We had been on a failed climb of Lundin Peak a few weeks ago and so I suspected that we might be rather tired by the end of the day.




In the below picture you can see Alan belaying Tom, my partner from a failed attempt on The Brothers on the previous weekend, using a prussik knot. Not the safest technique, but quick and simple.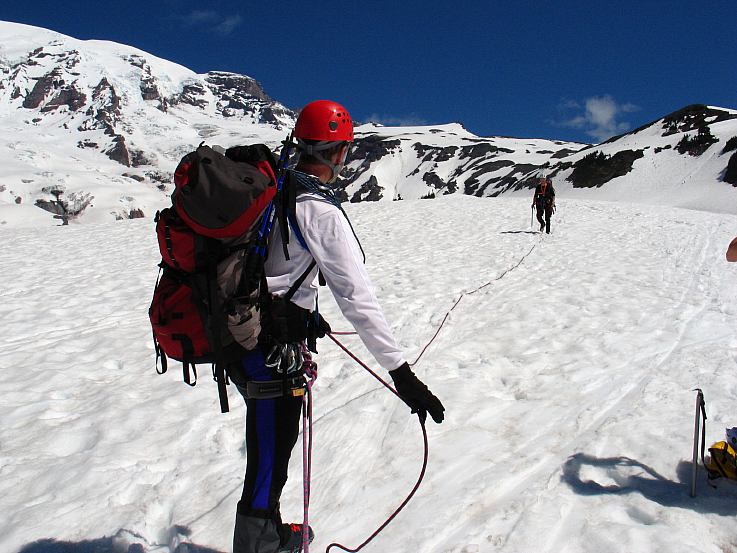 After being on the move almost continuously for five hours, Julie gave us a thirty minute break with some of the others, who seemed to be having a less strenuous day. Here, Gonzalo and Carol are working on navigation aspects. Gonzo is locating peaks via a map and compass and trying to plot an exact position on a map via triangulation.




After our short break, Julie got us working again on navigation and building snow anchors. I did have the time to shoot a photo of the lovely Vanessa.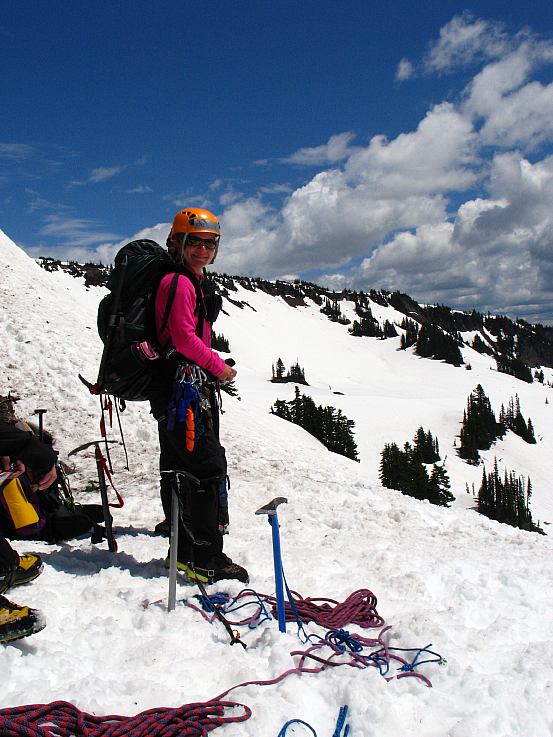 After building an anchor out of a stuff sack of snow, strong enough to resist the pulls of seven of us (about enough to hang a VW bug off of a cliff with), we roped up one last time for more traversing and yet more running belays. Julie marched us all around Paradise before finally giving the signal that we were done for the day. Her timing was rather impressive, as we reached the visitor's center just before a heavy rain began to fall.


---
Logistics

From Lakewood, take SR 512 east to SR 7 and follow the signs directing you to Paradise. After passing Alder Lake, reach the town of Elbe and take SR 706 to the Nisqually entrance station of the park. Unless you have an annual pass of some sort (Golden Eagle, for example), you'll need to pony up $15 at the entrance station. Follow the road past Longmire and up to the Henry M. Jackson Visitors Center at Paradise. Behind the visitors center you'll find a trail through the snow up to the basin and surrounding areas.
---