Tomyhoi Peak, Mount Baker Wilderness
May 26-27, 2007
Although it doesn't seem like it, I've actually been rather busy the last month. Between field trips for a mountaineering class that I was taking, and helping out at another one, I haven't had much time to sleep in or laze about, or even go climbing. In fact, I hadn't been in the alpine since my romp on Mount Baring, nearly six weeks ago. Even though the weather looked awful for the weekend, it was time to get back into the mountains. I liked up with Bob and Brenton, two friends from Vancouver for a scramble up Tomyhoi Peak. Close to them, far from me, but reportedly one of the great scrambles in the North Cascades. The plan was pretty simple: Hike up to Yellow Aster Lakes on Saturday, camp, practice some snow and glacier skills, and then climb on Sunday. That meant a full size pack, including a rope, pickets, and other glacier gear. That meant a lot more sweat than a single day push.

B and B met me in Glacier and we car pooled up to the Yellow Aster Butte trailhead, which meant we parked 2 miles from it and had to walk the rest of the way up the sometimes snow covered road. Several washouts meant that we wouldn't have been able to drive all the way, even if it was July. Although cloudy, the weather wasn't especially ominous and the cloud cover was high enough that navigation would be possible.




We grunted up the switchbacked trail for about a mile, at which point snow took over and re-routed us directly up the slope and into a large, broad basin, in which we tried to orient ourselves to our map while Bob battled off two camp robbers determined to steal his sandwich . An altimeter might have been helpful, but we eventually determined that we didn't need to go much higher (wrong!) and instead began a snowy traverse along the flanks of the mountains in front of us.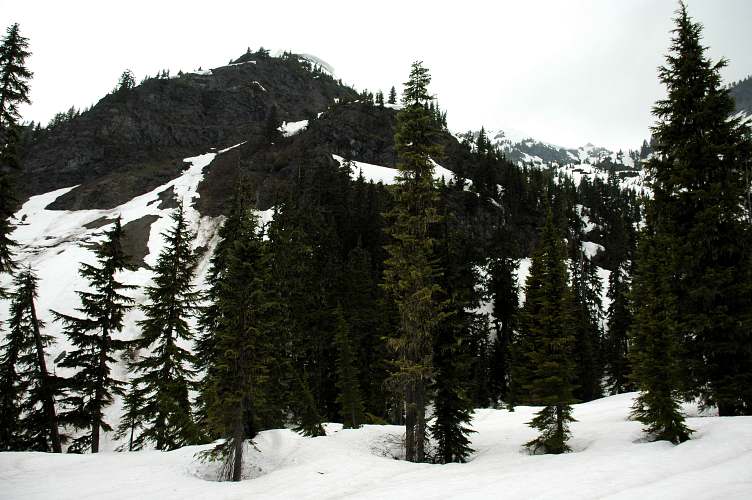 We traversed only briefly before climbing up through snowy gullies to obtain the more open ground above us. Mount Baker, just south of us, should have loomed impressively. Instead, we saw mostly clouds and snow and the partially clear cut valleys below.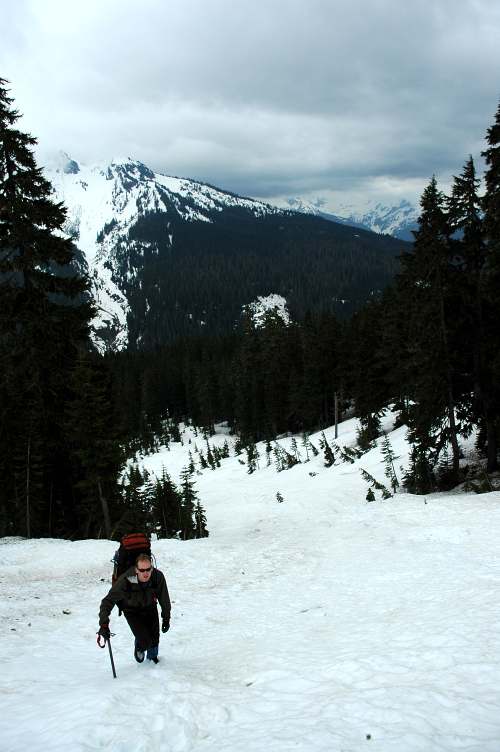 We traversed some more through the thinning forest until we gained sight of the valley holding the lower drainage of Yellow Aster Lakes. After pondering the map for a while, we decided to head up the rim of the valley instead of dropping into it, and indeed this was the correct choice. As we cleared the trees we could see the headwall of the valley, and it would have been a steep snow climb to get out of it. Instead, our ascending traverse, though increasingly thick clouds, gained us the high ground above the headwall and we were able to drop down a steep slope, with a thick cornice above us to where the lakes should have been. I say should, because there was scant evidence of their existence, except from what we could read from the snowy terrain.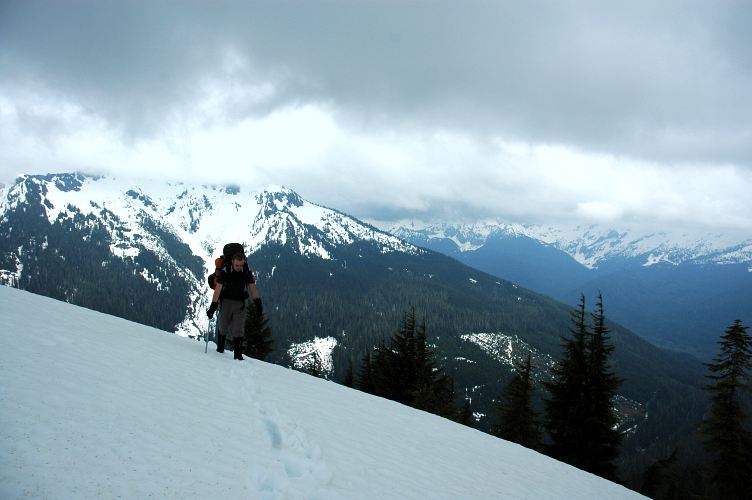 The clouds were thickening and we could not make out much more than the base of Tomyhoi. We found a nice, open area that was, oddly enough, protected from the chill wind blowing from the south, and dug in for the night. We had hauled plenty of gear to practice such things as snow anchors, crevasse rescue, and assisted rappelling, but instead of working we mostly sat in the kitchen chatting away and melting snow for water.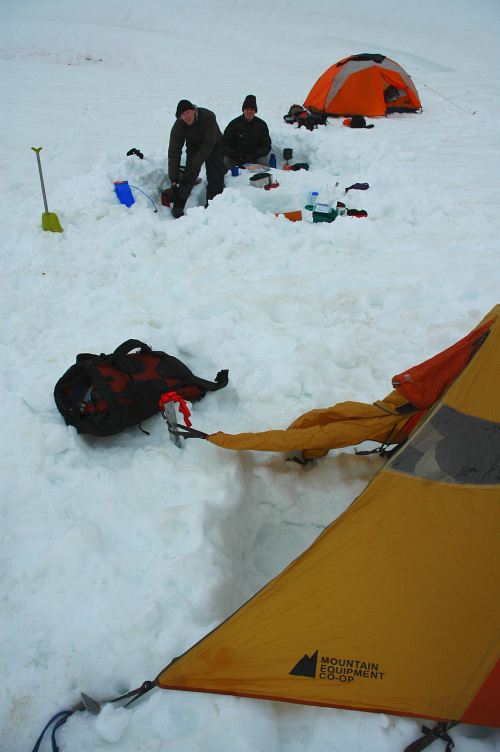 The weather continued to degrade, with thicker and thicker clouds, but the tasty lamb curry and rice from Hawker's, dried by Bob's mother, distracted us from the fact that it was highly unlikely that we would be climbing tomorrow.




Tomyhoi was supposed to be fairly straightforward, but we needed to be able to see to be able to navigate on the mountain. All we could see was the base, the beginning of the climb. While this might be enough to get us going, it wouldn't be enough to complete the climb and there was a good chance we would get ourselves into an uncomfortable place. Oddly enough, although we never saw Tomyhoi, occasionally the clouds would break apart enough for us to see the very impressive walls and part of the summit of Larrabee peak. We were only a few crow miles from the Canadian border, and somewhere out there were the American and Canadian border peaks.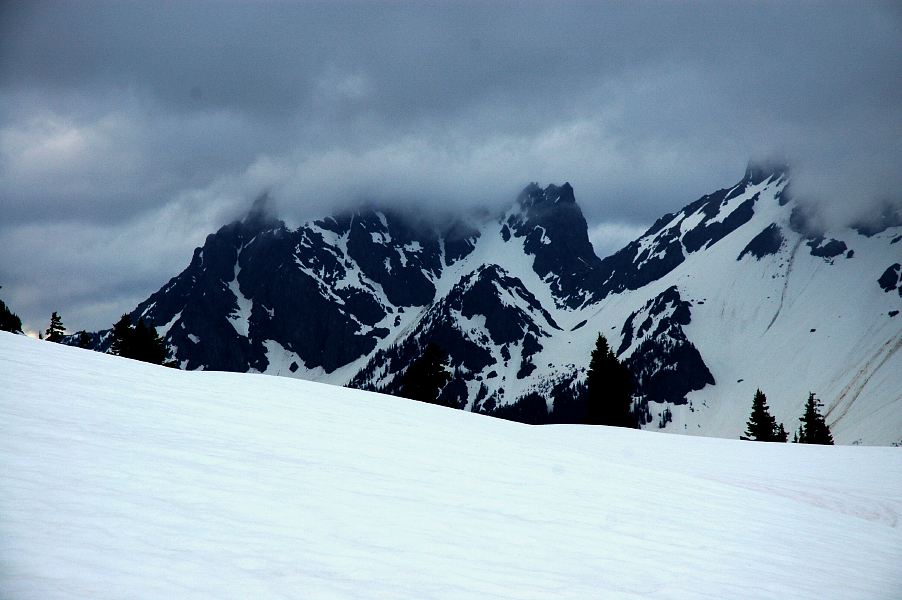 Instead of worrying about it too much, we ate and melted snow, pretending as if we were still climbing tomorrow. By 9 pm the temperature was starting to drop and it was time to run for the cover of the tents. We quipped that even in the worst case, we could still practice some rescue skills in the morning even if it was too thick to navigate and we couldn't climb.




Around 4 am the rain began. Bob stuck his head out around 6 am. I pointed a camera out of the tent at 7 am. Visibility was about 70 feet and rain was coming down lightly, but steadily. I went back to sleep for an hour. Our worst case scenario wasn't quite worse enough, and no one even suggested we rig a Z-pulley in the rain. By 10 we were moving once more, retracing our steps in the snow, in the rain, in the clouds, unable to navigate except for the trail of bread crumbs we had left the day before.


---
Logistics

From Lakewood, drive I-5 north to Bellingham and take SR542 East (Mount Baker Highway) for about 35 miles to the town of Glacier. Stop in Grahams and pick up a coffee and pastry before visiting the public information center to get a run down of current conditions. Continue east on the highway to the town of Shuksan. At the road maintenance complex, make a left on Twin Lakes road and drive up as far as you can. The road isn't in super great shape, but it clear of blow downs and an overloaded Accord did just fine. You can't drive all the way to the trailhead (Yellow Aster Butte) due to several washouts, but you can get about 2.5-3 miles up on it, leaving you with a 1.5 mile road walk to the trailhead. You'll need a NW Forest Pass or equivalent to park there.

Hike up the Yellow Aster Butte trail. If you're here later in the season, you'll have nice trails to follow. We lost the trail under snow after about 1 mile. If you do too, hike up the slope until you enter a large, open basin with the Yellow Aster Butte complex in front of you. Cross the basin and traverse along the flank of the complex, taking the easiest way possible, gaining elevation where you can. You'll eventually run in to the edge of a large valley holding the drainage from Yellow Aster Lakes. Do not descend into it, but rather continue gaining elevation along the rim until you see the lakes, or have passed the steep headwall below the lakes. The descend. We never saw the lakes (snow covered) or Tomyhoi (cloud covered). You gain less than 3000 feet in about 4 miles to get to the lakes. With route finding, it took about 4 hours to the lakes and about 2 hours to return. There are cornices enroute, so be sure to stay away from the rim edge.

When you come out, make sure to stop again at Grahams for coffee and pastries: A large French Roast and a massive apple fritter set me back all of $2.
---