Rampart Ridge, Mount Rainier National Park
January 20, 2008
"The road will open at noon," said the smiling woman at the entrance to the park. All three of us grimaced, shook our heads, and cursed the NPS. Our plans for climbing something in the Tatoosh vanished and we re-focused our attentions on taunting the park service. The road to Paradise is the only main one open during the winter time and the park service closes it at Longmire at night fall. They are supposed to plow it and try to get it open in the morning. Usually you have to wait until 8 or 9 in the morning. We needed to get above Longmire, to Narada Falls, in order to start our climb, which meant we were doing something else with the day.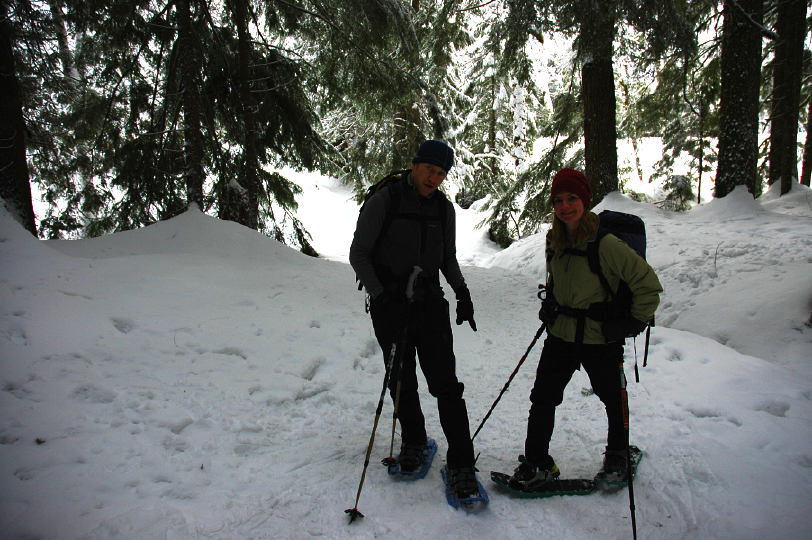 I've hiked Rampart Ridge enough times to remember that it isn't very much fun. Ok, so this would be the third time I've hiked it, and I came to the realization of its unfunness after the first hike. It isn't that the trail is somehow bad, but rather that it isn't especially good. In a land of superlative destinations, there is no reason to waste time on something that isn't spectacular. The second time was the day before a fall rain storm erased large parts of the southern end of the park, forcing a complete closure until May. There weren't many other options for us and Rampart Ridge, at least, is easy and the snow was fluffy and white.




There were snowshoers in front of us, which meant that there was a nice trough to follow up the hill side. The three of us yapped constantly, working to the top of the ridge, where we passed a few tired looking snowshoers. A bit further along we stopped at an open spot and stomped out a flat area to eat the sandwiches that Vanessa had made for our lunch. There wasn't anything to see except for clouds, though the sky really wanted to clear. Occasionally we would see patches of blue overhead and a little filtered sunlight, but mostly we had mist. One party after another passed us as we sat in the snow on our packs and munched on the turkey sandwiches. As I ate, I recalled that neither Kevin nor Peter nor Wayne nor Tom nor any of my other climbing partners, regular or not, had ever brought me a sandwich. There was probably some sort of lesson in this thought, but the time came for us to start moving again.




After following the trough the other snowshoers made for thirty minutes, I happened to look down and noticed that there was no snowshoe on my left foot. This seemed odd to me as there was a snowshoe on the right foot. The trough was good enough, and there was enough hard pack underneath, to make snowshoes not necessary. As Kevin and Vanessa waited, I walked back for a bit and ran into a snowshoer who had my shoe in tow. They passed us as I stripped off my other shoe and put both on my pack. There were now seven people in front of us and the trough was magnificent. At least until they got lost, which meant we got lost. Not exactly lost. Just not over the exact trail.

There were snowshoers milling about in various places, tracks going here and there. Kevin and I looked at a map and compass and realized that the map was for the Tatoosh and not for here. No matter, the road was south and west of here, and all we had to do was avoid a few cliffs. We started following a drainage down and slowly accumulated a group of hikers behind us. They seemed skeptical that we would be able to find our way back to the road, perhaps because of the cavalier attitude that we took. For us, this was the fun part, the active part.




With the trough, all you can do is follow. But with no track to follow, you can make things up as you go. That is, you can make your own route instead of following others. The people behind us didn't have the same fun, as they were just following us, but judging from some of their expressions they were having all the fun they could handle. We wandered along the ridge for a little while, skirting the tops of some steep cliffs and waited until a way down could be found. This was actually fun. Rampart Ridge, normally a boring forest walk, was turning into an exciting day. We wandered through the snowy woods with no particular route in mind other than taking a path of least resistance. The other hikers were behind us somewhere, as we could hear their voices occasionally. "Are we going to ever get out?" I shouted at Kevin, having some fun with the others' nervousness.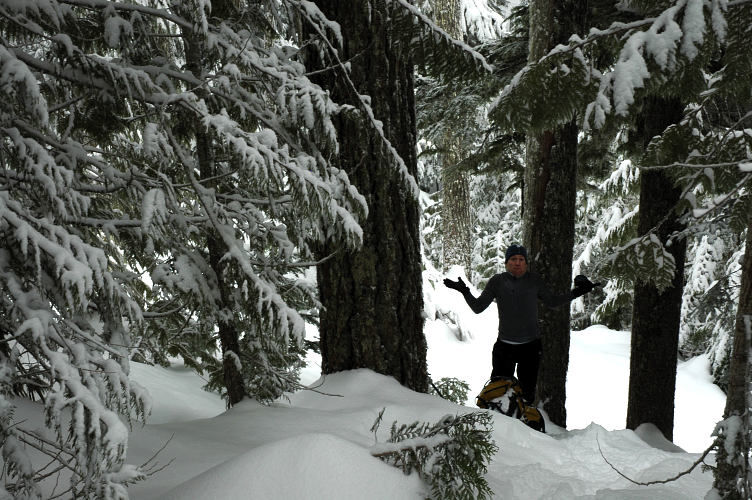 At a completely random spot in the woods, we decided to leave the ridge and begin descending. Whether or not the others would follow was unclear, as there really wasn't a reason for choosing this spot over any other one. We dropped down for five minutes and hit a nice, wide trough: The trail coming up. Our fun was over. There was nothing left to do except walk out to the road and drive as quickly as possible to the Copper Kettle and beer at 3 in the afternoon.
---
Logistics
From Lakewood, take SR512 west briefly and then exit onto SR7, heading south. Keep on 7 until you reach SR706 and make a left on it for Paradise (signed, you can't miss it). Drive 706 to the entrance to Mount Rainier National Park. You'll need to pay them some money to get in, or have a pass of some sort (Golden Eagle is what I have). Keep on to Longmire and park near the museum. Cross the road you just came in on and pick up a front country nature trail, walking back in the direction you came. In about 200 yards, you'll reach a left turn for the Rampart Ridge Trail. It is a little steep in places, but broad and overall is a pleasant hike up to Longmire Viewpoint (a little under 2 miles up the trail). Once you pass the viewpoint, the hard work is done. Continue along the ridge until the Wonderland Trail and make a right turn. In about 1/4 mile you'll reach a junction with the Van Trump Park trail, which you could take for another 4 miles to Van Trump Park, Comet Falls, etc.

---